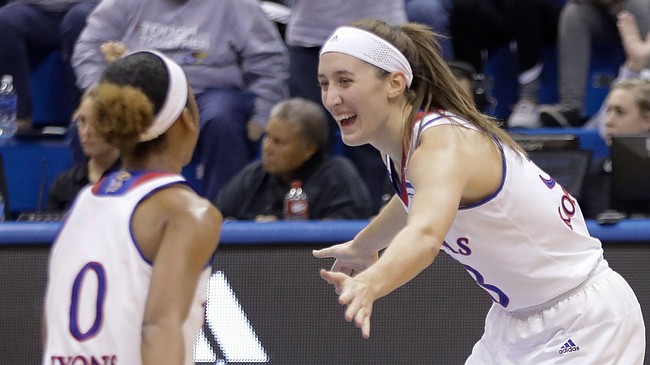 Kylee Kopatich trotted out to her spot behind the 3 point line. She called for the ball and began to shoot.
Clank … clank … swish … shrug.
Fresh off the best half of her KU career, one in which she missed fewer 3's than in the sequence from warmups, Kopatich returned to the floor with a determined look. The smile she so often brandished would return on occasion, but for the most part, it was a wide-eyed, icy temperament the junior wore as she led KU to its 66-48 win over Campbell Sunday in Allen Fieldhouse.
That was, until she heard the song.
"Oh, crap," Kopatich said.
That reaction, coming in the postgame press conference, occurred after a reporter asked Kopatich about her dance moves.
The videoboard caught her dancing to the song "Everytime We Touch," by Cascada, at one point in the fourth quarter. Kopatich, who carried herself in-game with the confidence of a dead-eye shooter, was a little more sheepish when it came to the extracurricular activity.
"That's my song though," Kopatich joked. "You can't stop me there."
Campbell couldn't stop her, or the Jayhawks (1-0), just about anywhere early on.
One year removed from losing a season opener by 23, the Jayhawks began their 2017-18 campaign in the opposite fashion.
Kopatich opened the game with a 3 from the right corner, as she used an off-ball screen from Chelsea Lott to free herself up. Austin Richardson tallied the next KU points before Kopatich drilled another 3 to make the score 9-0.
"I saw someone who was just hitting 3's," Richardson said of Kopatich. "Gosh."
The Jayhawks maintained their perfect start to the season for more than eight minutes, taking a 17-0 lead until Lauren McNamara-Clement scored Campbell's first bucket of the game with 1:55 to play in the first quarter.
KU coach Brandon Schneider agreed there probably wouldn't have been a better way to start the season, though he did caution there was more to it than just the shot-making.
"Sometimes that can be fool's gold," Schneider said. "Fortunately for us, our defense was pretty steady."
Sure enough, just one week after a game in which Schneider felt his team lacked toughness, KU put up a better effort inside. The Jayhawks outrebounded their opposition, 38-31, and allowed only seven offensive rebounds while grabbing 12 of their own.
The Jayhawks also tallied nine steals in the afternoon, with three coming from transfer Brianna Osorio (nine points, five rebounds). Kopatich, who led the team in points (21, career-high) and rebounds (seven), also tallied two steals and a block.
"Not only did she get off to a great start offensively, we gave her the toughest defensive assignment, as well," Schneider said of Kopatich. "It's nice to see her mentally accept that challenge and it not affect her aggressiveness on offense."
After the game, Campbell coach Ronny Fisher credited not only Kopatich, but also point guard Christalah Lyons for helping set her up with some easy looks.
Lyons, who tallied 13 points and five assists, played 35 minutes in her first regular-season KU action.
As for Kopatich, the Olathe-native made it clear that while she "felt great" shooting the ball, she expected even more from herself and the team moving forward. Her coach agreed with that sentiment, though there was one thing he hoped could simply remain a constant.
"She played really well, but that's to be expected," Schneider said. "We've got to get to a point in our program where that's just what we expect out of our players and that's what they expect from themselves."