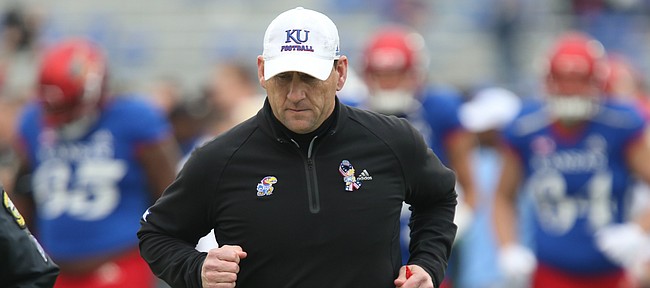 Two days after his team dropped a home game to previously winless Baylor, extending the current Kansas football losing streak to eight games, head coach David Beaty wasn't feeling concerned about the status of his contract.
"I'm not at all. I feel great," Beaty said Monday morning on the Big 12 coaches media teleconference, when asked about his future moving forward, now close to 11 months after signing a contract extension with KU that runs through the 2021 season and includes a $3 million buyout.
"When we came to this place," Beaty continued, "we made it very clear we were not going to take any shortcuts. We weren't going to go sign entire classes of junior college guys and try to get a quick fix. We had seen kind of what that had done and we had said, when I came here, I said, 'You're going to have to give me my contract to get things taken care of here,' because that's how you build it. You build it with high school players that have been in your program for four to five years. And right now I look at our roster of scholarship guys who are playing, basically that are fourth- or fifth-year guys and there are eight of them — we have eight."
Referring to KU upperclassmen such as redshirt juniors Joe Dineen, Daniel Wise and Josh Ehambe, and seniors Ben Johnson, Kellen Ash and John Wirtel to make his point, Beaty said his roster lacks the experienced depth of the player personnel at Iowa State or TCU.
The third-year Kansas coach, whose recored stands at 3-30 entering this week's trip to Texas, said his mentor, Rice head coach David Bailiff, always told him, "You win with juniors and seniors."
In Saturday's 38-9 loss to Baylor (1-8 overall, 1-5 Big 12), Kansas (1-8, 0-6) started four sophomores and a freshman on the offensive line, redshirt sophomore Carter Stanley at quarterback, sophomore Khalil Herbert at running back, senior Ben Johnson at tight end and three juniors at receiver: Steven Sims Jr., Jeremiah Booker and Tyler Patrick.
KU's defense started eight juniors and three sophomores.
"The truth is we still have a lot of young guys here, a lot of young guys that we're still in the process, and our A.D. (Sheahon Zenger) has certainly understood that and still understands it. He's been incredibly supportive as well as our chancellor (Douglas Girod) has," Beaty stated. "From our standpoint, we feel great about that. There's absolutely no indication of anything different. That was the plan all along, that it's a process, not an event."
Asked for his perspective on Beaty's comments, Zenger released the following statement Monday evening: "When we hired David we knew it was going to be a long process considering the roster numbers we were dealing with at that time. Now we are living through that process, and I know it's difficult for everyone — players, coaches, staff, donors and fans. David knows the goal is to win, and I have faith, as I did the day we hired him, that he will rebuild this program the right way. I know from experience that coaching continuity and upgrading facilities equal to our peers are critical to the building of a successful Power 5 program, which is what we all want."
Through nearly three seasons, Beaty's KU teams have won a single game against Big 12 or FBS competition. That victory came in November 2016, less than a month before he signed his contract extension.
More like this story on KUsports.com