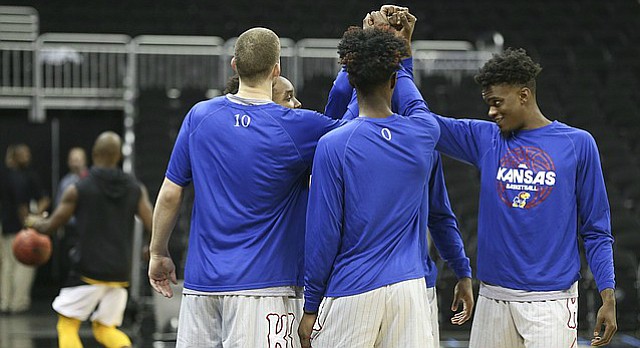 Kansas Jayhawks (0-0) vs. Fort Hays State Tigers (0-0)
Time: 7 p.m. | Location: Allen Fieldhouse, Lawrence, Kansas
TV: Jayhawk TV/ESPN3 | Radio: IMG Jayhawk Radio Network
Log on to KUsports.com for our live game blog coverage and follow the KUsports.com staff on Twitter: @KUSports @mctait @TomKeeganLJW @bentonasmith @nightengalejr @chasenscott & @nickkrug
Keys for Kansas
1. Meat and potatoes
With just two games remaining before their Champions Classic showdown with Kentucky in Chicago, the Jayhawks are approaching tonight's contest with Fort Hays State as a valuable opportunity to continue to work on the things they need to do to become a good team.
"We're not ready yet," KU coach Bill Self said Monday. "We're further along than we were last week. We got some stuff in this past week. But there's still some things that we need to get in and do before we play. I don't know if a coach ever feels like their team is prepared to play a game. There could certainly be something that somebody does because we don't have a good book on 'em that would totally catch us off guard. But we hope not."
To that end, Self said his team has focused this preseason mostly on its needs and executing its own stuff on offense and defense rather than worrying too much about what the opponent is going to do.

"We practice meat and potatoes, and, for the most part, they probably do, too," Self said of emphasizing the basics. "But we don't know that for sure."
2. No lulls this time
After racing out to an incredible 40-10 lead over Pitt State in last week's exhibition victory, the Jayhawks coasted to close both halves, scoring just 37 in the second 10 minutes of each half while roaring to 63 during the opening 10 minutes of each half.
Those spurts included a 22-0 run in the first half and were made possible mostly by KU's willingness to run and attack and never stop.
The Jayhawks were terrific in transition against Pitt State and tenacious on the glass, doing exactly what a major Division I program should against a lower-level team.
But KU coach Bill Self said after the victory that he would have felt a lot better about the game had his team not pulled back to close each half. Doing so obviously had no bearing on the outcome, but it is not the kind of mindset Self wants his team to take into the regular season and tonight affords the Jayhawks one final chance to fix that before things count for real.
"I thought we did some good things (vs. Pitt State), but I think we can still play with much more aggressiveness, especially defensively," Self said.
3. Guard the 3-point line
After playing Kansas State tight for a half in an exhibition game last week, the Tigers were outscored by 16 points in the second half of a 23-point loss.
While the Tigers shot just 36 percent from the floor for the game, nearly half of their points came from behind the 3-point line, where they made 9 of 28 shots from downtown for a 32.1 percent clip.
While that percentage won't scare anyone, the fact that the undersized Tigers relied on deep jumpers is an indication that the Jayhawks will have to be sharp with its perimeter defense in order to keep FHSU from getting comfortable.
"We're ready to get rolling, but we're never gonna overlook anybody," KU sophomore Mitch Lightfoot said of his team's final tune-up for the regular season. "We're gonna learn from this game and hopefully get ready for the season."
As for their own action behind the 3-point line, Self said he thought his team had done a good job of not settling for too many 3-pointers but also acknowledged that the guard-heavy attack would likely mean more shots from distance.
"Historically, we should be a team that shoots about 35-40 percent of their shots (from 3-point range), being a little bit smaller," Self said. "I think we could take more threes this year, but we don't need to fall in love with it. At the end of the day, you still have to be able to throw the ball inside and get a basket when teams are pressuring out."
Mega Matchup
KU forward Billy Preston vs. The Clock
After an injury scare during KU's 100-54 victory over Pitt State last week, the freshman forward played just eight minutes, logging 10 points, four rebounds and four fouls during his time on the floor.
That brought the ultra-talented Preston's exhibition average to 11.5 minutes per game, much, much lower than the Jayhawks are going to want and need from Preston this season.
With just one tune-up remaining before the regular season opener on Friday, look for Preston to play as many minutes as his foul trouble will allow him to, with the injury scare not expected to play any role in his time on the floor.
"Oh, he's fine," Self said. "I haven't asked him about his health so I assume he's fine. He's had a couple of good days of practice."
Jayhawk Pulse
It's been a long exhibition season for the Kansas men's basketball program, which opened exhibition play on Oct. 22 and is set to play Game No. 3 tonight.
For a stretch that normally lasts just a week, that's a long stretch that has the Jayhawks eager to move past the dress rehearsals and onto the real thing.
"I was thinking about that the other day, 'Dang, we have way more exhibition games than usual,' but really it's just been one (more) game," sophomore forward Mitch Lightfoot said Monday. "We're ready to get rolling but we're never gonna overlook anybody. We're gonna learn from this game and hopefully get ready for the season, but, yeah, I think we're all excited to get this thing rolling."
With Tennessee State coming to town Friday night, the Jayhawks will get that chance, but, first, they'll get one more shot to iron out the wrinkles against an in-state program from a lower level.
KU's monster size advantage and elite athleticism should have this one resembling the 100-54 victory over Pitt State last week. But don't expect the Jayhawks to focus too much on the big picture and final score. Instead, their goal is simple.
"We'll play like the score's 0-0 every possession," Self said. "But I'll be honest with you. I hope we play well, I hope they play well and I hope we both can get better from this."
Probable Starters
Kansas
G – Devonte' Graham, 6-2, 185, Sr.
G – Malik Newman, 6-3, 190, Soph.
G – Svi Mykhailiuk, 6-8, 205, Sr.
G – Lagerald Vick, 6-5, 175, Jr.
C – Udoka Azubuike, 7-0, 280, Soph.
Fort Hays State
G – KeShawn Wilson, 6-2, 175, Jr.
G – Trey O'Neil, 6-2, 175, Jr.
G – Kyler Kinnamon, 5-10, 175, Jr.
F – Hadley Gillum, 6-5, 225, Sr.
F – Brady Werth, 6-7, 225, Jr.
More like this story on KUsports.com