Reality this weekend didn't live up to the expectations Kansas football players and coaches had going into a matchup with previously winless Baylor.
In the wake of a 38-9 home loss to the Bears, junior KU linebacker Joe Dineen explained why such a result was indefensible.
"I think the town, the fans, I think they deserve a better performance from the players," Dineen, a Lawrence native, said following his eighth double-figure tackling game of the year, "and I can't really put it in words. But the fan base deserves for us to play better."
Kansas coach David Beaty expected his team was prepared and skilled enough to defeat on Saturday a rebuilding Baylor program that had yet to experience a victory this season.
So what kept that scenario from coming anywhere close to playing out in an easy win for the Bears?
Photo Gallery
Kansas football v. Baylor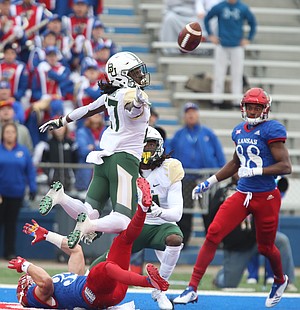 View a gallery of images from the Jayhawks' home game against the Bears on Saturday at Memorial Stadium.
Beaty responded to that question during his abnormally brief post-game press conference in Mrkonic Auditorium by first figuratively taking his hat off to first-year BU coach Matt Rhule, who won his first game with the program.
"He had his team ready to play. I thought they schematically exposed us a couple times on some things that helped them. Their play-action pass, being able to hit (Denzel) Mims. We knew he was a great player," Beaty added of the receiver who accounted for 122 of Baylor's 335 receiving yards against KU. "I didn't think we defended him well at all (Saturday). We've got to do a much better job there."
Mims was just one part of the problem. First-time starter and BU freshman quarterback Charlie Brewer picked apart the Jayhawks, going 23-for-29 through the air with 315 yards and three touchdowns.
"The other guys made plays. They hit us on a couple of tight ends down the middle that we're in position, all we've got to do is knock it down, if not be able to pick it, and we just didn't make the play," Beaty said, referring to TD grabs by Jordan Feuerbacher and Ish Wainright. "And then there's another one where they slipped the running back out and he gets behind one of our guys, and those are things that you don't see very often, but you've got to be able to stop them when they show up.
As usual, Beaty looked for the positive attributes while addressing what went wrong. He credited KU's defense with getting off the field a few times. Baylor punted on five of 12 possessions, but three punts came in the first quarter. The defense also got off the turf unscathed following a Ryan Schadler fumble in the second quarter, when BU kicker Connor Martin missed a 36-yard field goal.
"That was outstanding," Beaty offered of the Kansas defense limiting BU to 27 yards on five plays after a turnover. "They kept battling until the very end. If there's anything that I do think is a nice part about it, it was that those guys kept fighting out there"
Dineen, though, described KU's overall performance as "unacceptable" after Baylor "kicked our (expletive) for four quarters," dropping the Jayhawks' record to 1-8 on the season and 0-6 in the Big 12.
According to the redshirt junior captain, Beaty handled his post-defeat message to the team better than Dineen could.
"I just think he keeps his cool a lot better than what I would have. It's getting hard for me to keep my cool. You know, the fans and stuff, they deserve so much better," Dineen said after KU's eighth consecutive loss. "We're Big 12 football players and the product we've been putting on the field is unacceptable."
After KU put up a fight against Kansas State the previous week, many Jayhawks planned to build off that showing versus Baylor. Another team captain, junior defensive tackle Daniel Wise, said he and his teammates enter every weekend with confidence.
"This is a game we should've won," Wise said. "We're going to go into the next game thinking we're going to win, as well. We had every key to beat this team, but we just didn't execute."
After yet another discouraging result, Beaty explained how he would keep players' attentions leading up to their next game, Saturday at Texas (5 p.m. kickoff).
"Man, we've got a great locker room. We don't have to get them back. They've just got to let this one go. The reason we don't have to get them back is because they believe," Beaty said. "But we've got to let this one go. We've got no choice. We're going to have to let it go. We've got to learn from it and move on to the next one, because like I said, we've got three really, really tough opponents that we're facing down the road. We've just got to learn from it. I know those boys in there are disappointed. I know our coaches are disappointed. I know our fans are disappointed. They've got every right to be."
---
More news and notes from Kansas vs. Baylor