One of my first days on the job in August of 2005. Chuck Woodling had recently stepped down as Journal-World sports editor and into his new role as the most productive, famous part-time sportswriter in Kansas. We were walking up Mass Street to grab lunch.
"How about here?" I suggested.
"No," said Chuck, who died Wednesday in Lawrence, his home of 49 years, at 76. "Won't eat there."
Why not?
"No double doors."
Huh?
"No airlock. Too cold."
Wow, I thought, is this a Kansas thing?
No, I soon found out, this was a Chuck thing. If a restaurant didn't spend money on double doors, he didn't spend money on their food. Chuck had a lot of "things." Those things made him a bona fide original, completely uninterested in copying anyone else and full of quips he would follow with a muted, high-pitched laugh.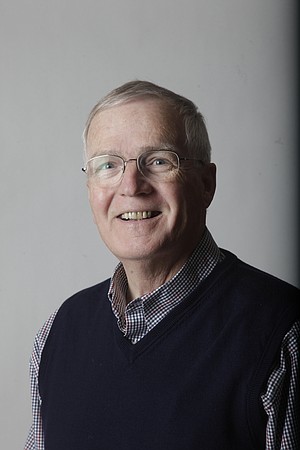 One of Chuck's things was to mow his lawn at the start of the Kansas Relays, unless it rained that day. He had received a letter from someone in the KU athletic department griping about the paper's coverage of the Relays. It read, in part, "If this is the best you can do, you might as well stay at home and mow your lawn."
He never again attended the Kansas Relays, but did acknowledge the event annually by mowing his lawn on opening day. Game, set, match to Chuck!
Woodling spent 37 years as Journal-World sports editor and was appreciated by his bosses for not caving to the temptation to take the easy path of writing for the people he covered. Instead, he wrote about them with clever words that reflected the teams' and athletes' performances. Poor play meant unflattering reviews.
"I liked Chuck," former Kansas basketball coach Ted Owens said Thursday. "In the coaching profession, you can't expect anybody to be favorable all the time. It's not fair of you to expect that. I never, ever thought Chuck was anything but fair. Personally, he was a good friend, too. I thought the world of him."
So did his colleagues, especially aspiring reporters fresh out of or still attending the University of Kansas. He treated them as equals, cracked them up with his wit, groomed them by imparting wisdom delivered without a hint of condescension.
After Woodling stepped down as sports editor, he enjoyed writing about high school and college events that weren't widely covered.
On the day Kansas ended its 36-year losing streak to Nebraska in 2005, Woodling was covering Haskell Indian Nations University's 24-21 double-overtime victory against Nebraska's Peru State, prompting him to wonder when the last time was that two Nebraska universities lost football games in Lawrence on the same day.
Woodling watched many of the losses to Nebraska sitting next to close friend Bob Hentzen, then sports editor of the Topeka Capital-Journal.
After Nebraska's 31-15 victory over KU in 1981, Hentzen, who died in 2000, suggested to Woodling that if KU ever defeated the Cornhuskers in football that they both cheer in the press box, breaking a sportswriter's tied-for-No. 1 rule of professional decorum (along with never asking for an autograph).
On the day KU linebacker Kevin Kane returned an interception for a touchdown and executed a somersault in the end zone, Woodling held up his end of the bargain when the 40-15 score was announced in the Haskell Stadium press box.
"It wasn't a loud cheer, and it was out of context, but I consider the pact fulfilled," Woodling wrote.
Chuck loved to travel, visited all 50 state capitals and too many minor-league ballparks to mention, bringing home from each the home team's ball cap, purchased at the souvenir stand.
His quirky sense of humor and love of the game would have made him a hit as a beat writer in Major League Baseball clubhouses, but he wouldn't have liked that life. It would have taken him away too many days and nights from Carolyn, wife of 53 years, and daughters Carrie and Gena (named after 1950s Yankee Gene Woodling) and dog Bud (named after former KU football coach Bud Moore).
Lawrence High football coach Dirk Wedd, who is retiring at season's end, tweeted Thursday that he met Woodling 49 years ago when Wedd was, in his words, "a fat, 16-year-old American Legion catcher." Wedd added that Chuck would always tell him when he thought the Lions played well and when he thought they played poorly.
"I will miss him," Wedd wrote.
Kansas defensive coordinator Clint Bowen was a classmate of Gena Woodling at Lawrence High, where Chuck saw Clint and his older brother Charley play before he saw them play for the Jayhawks.
"So sad to hear," Clint Bowen said Thursday. "He was a Lawrence guy for a long time, even though he was a Missouri grad. Have to say that every time you mention, Chuck, right? It was always fun seeing him. Very dry sense of humor."
Woodling jokingly wrote that he deserved credit for Kansas ending its 36-game losing streak to the Cornhuskers by not attending the 2005 game. Now that Chuck has moved on to his eternal reward and won't be watching KU on television, he just might deserve credit for breaking KU's seven-game losing streak Saturday should the Jayhawks score an upset over the winless Baylor Bears.
There will be no cheering in the press box, regardless of the outcome, but there will be a lot of laughs as Chuck's friends remember him with stories and impersonations that won't sound exactly like him. After all, it's not possible to quite capture a bona fide original.
More like this story on KUsports.com