Safety Mike Lee learned far in advance of this past weekend's home game against Kansas State that, for the first time in more than a year, he wouldn't be starting.
The sophomore defensive back from New Orleans sat among his peers, watching video footage of what Lee described as his "bad plays," on the Monday following the Jayhawks' drubbing at TCU. It was then and there defensive coordinator and safeties coach Clint Bowen informed Lee, the team's second-leading tackler, his numerous miscues meant Shaq Richmond would start instead of him versus the Wildcats.
"My facial expression was just the same," Lee recalled. "I wasn't really worried about that, because I knew I could do better than that and I could perform better."
Because Lee understood the missed assignments and tackles that inspired Bowen to take away his starting job weren't acceptable, the demotion began having its intended effect on him as soon as the ensuing practice.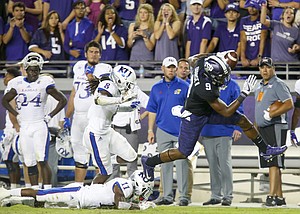 "Sitting on the sidelines watching players play and practice, that just motivated me, because that's never really happened to me before," said Lee, who had started KU's previous 15 games. "It was just that feeling that I really have to work harder and push myself more and get in the game and make plays, and that's what I did."
Bowen anticipated a more focused Lee, because the alternative would involve a lot more watching and a lot less playing for the second-year safety.
"I don't think he had a choice in how he was going to handle it. At some point in time you have to fix your mistakes," Bowen said. "And if you don't fix them there's got to be some accountability for it. You cannot play safety in the Big 12 and tackle poorly. And he's tackled poorly all year."
Once Richmond played the opening series of KU's 30-20 loss to K-State, Lee entered the game as a substitute focused on carrying out his assignments and making up for his past football sins.
Said Lee: "I was really going into the game thinking, 'Don't miss no tackles.'"
To follow through with that plan, Lee said he just tried to play with patience, fill appropriate gaps and handle his responsibilities correctly in various formations.
As a reserve, Lee contributed seven total tackles and two tackles for loss and played more than Richmond. His biggest play came late in the first quarter, when on fourth-and-inches at KU's four-yard line, Lee ended a Wildcats possession with an open-field tackle of Alex Delton.
https://twitter.com/GIFhawk/status/924361417779761154
KU head coach David Beaty thought Lee took losing his first-string status to heart.
"Yeah, I mean, the thing is you either have to show that you're going to make those improvements because it's the way that it fits into the scheme, or we've got to go to the next guy that will show us that he can do that, right?" Beaty said. "And you'll have your opportunity to get back in there. When you do, if you show that you made those adjustments, then your playing time will tend to improve again, right? So that's kind of what happened Saturday."
Podcast episode
On this episode of the KU Sports Hour, hosted by KU football beat writer Benton Smith, the KUsports.com staff discusses KU's 30-20 loss to K-State. Topics include: KU's special teams issues (open-7:16), Carter Stanley's big day (11:45-19:45), players of the game (19:45-27:35) and the KUsports.com football mailbag — the "Siesta" ...
Earlier this season, Lee moved from what KU calls its "field safety" position to the other "bench safety" spot, closer to the sideline. That, too, played a part in him not living up to his potential as a defensive play-maker, as he adjusted.
"At free safety I really wasn't getting a lot of action," Lee said. "I was just covering guys and just playing way off the ball. So really they moved me to bench safety just to tackle more."
The problem was that move hadn't worked out, because Lee was either out of place or using improper techniques, defeating the whole purpose of the reassignment.
"The last few games I've been missing a couple tackles and that was costing a lot of yards for our defense," Lee said, "so really that just made me prepare more and work more, and what I had to work on was tackling. That's what I did."
While Lee didn't play flawlessly against K-State, Beaty remains confident in his hard-hitting sophomore heading into Saturday's matchup with Baylor (0-8 overall, 0-5 Big 12) at Memorial Stadium (11 a.m. kickoff FOX Sports Net).
"He'll get there. He wants to do it, and he doesn't mind you coaching him," Beaty said. "You can get after Mike and he takes it."
A junior captain for the Jayhawks (1-7, 0-5), defensive end Dorance Armstrong Jr. liked how his teammate accepted his punishment.
"From him going in knowing he wasn't going to be able to start, I think he responded well. All week at practice Coach Bowen made an emphasis on the way he tackled. He worked on it all week and came to the game and it was changed," Armstrong said. "That's a good sign. He responded well."
As one might expect, Bowen wasn't as forgiving.
"It's a decision he has to make, if he's going to fix it. He tackled a little bit better in the K-State game," Lee's coach said. "It needs to be his every waking thought, of how to tackle in the correct way."
Lee respected Bowen's decision, because he knows his coach wants to maximize his impact on defense.
"Yeah, really because most coaches at some colleges, they sit you on the bench, they probably won't play you that much in a game," Lee said. "They did me like that because they know that I would just come harder and work harder to perform better in the game."