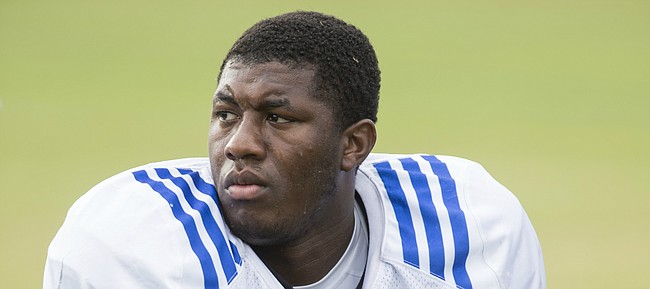 Baylor, the best shot for Kansas to win a Big 12 game, arrives at the perfect time on the schedule for the Jayhawks.
Think about it: At what other point has the offense had this much cause for optimism in Big 12 play with Mesa Ribordy back at center and quarterback Carter Stanley coming off a 418-yard day in his first 2017 start?
Ditto for the defense, a blend of veteran playmakers and young players making fewer mistakes each week as they gain experience and the game begins to slow down for them.
Mix in the wounded pride at initially being pegged as a double-digit underdog, which should give KU the emotional edge. Then consider that the home crowd might be larger than anticipated, given that Kansas was competitive in a 30-20 loss in Memorial Stadium and Saturday's forecast calls for a high of 65 degrees.
Baylor's status as road favorite is based on the Bears staying close in more conference games than KU. Baylor lost to Oklahoma by eight points, West Virginia by two points and Kansas State by 13. KU's lone Big 12 margin of defeat smaller than 22 points came vs. K-State.
But the spread, which opened at 10 points and at last check shrunk to eight, doesn't take into account the experience advantage Kansas has on Baylor. Typically, KU is on the short end of the experience comparison. Not this week. Baylor has played 17 true freshmen and 10 of them have made at least one start.
None of those freshmen have experienced winning in college. Nearly all of KU's players were in uniform a year ago when the Jayhawks stormed from behind to score the school's first victory against Texas since 1938.
If it's close and the crowd makes itself heard, advantage Kansas, especially if the defense is at its disruptive best to aid the secondary in keeping standout sophomore receiver Denzel Mims from going off as he did against Oklahoma (seven receptions, 192 yards, three touchdowns).
"Our defense is finally coming together to where it should have been from the start, but it wasn't," junior defensive end Dorance Armstrong said. "Now, we're getting there and we're going to keep building from there."
Armstrong said Tuesday that he felt his ankle, which he sprained Saturday, feels "90 percent" recovered and added that he receives three treatments a day.
Fellow junior defensive tackle Daniel Wise and linebacker Joe Dineen have spent a lot of time in opposing backfields. Dineen leads the Big 12 in tackles per game (99) and, more importantly, tackles for loss (15.5). Wise ranks second in the Big 12 in sacks (5.5) and TFLs (12).
"He's very explosive, dynamic, great with his hands," Kansas head coach David Beaty said of Wise. "He's grown up so much from the first time that we ever met him. He's turned into a real pro, and he's turned into the leader. He's really taken over that leadership role for our football team, which is good to see. … And he cares about KU. That's one of the things that I love about him most, he truly cares about this university."
Sophomore safety Mike Lee is coming off his best game and classmate Bryce Torneden has made a loud impact since moving from safety to nickel back.
"He's doing a lot better, a lot better," defensive coordinator Clint Bowen said. "The nickel spot is a better fit for him. It eliminates the bigger space issues. That part of it allows him to use his strength, allows us to do more with him. We can blitz him. We can put him in run fits because he's a well-built kid. He's a good blitzer. He can come quick and he can change direction and he has an instinct about it. A lot of blitzers, they just get lost. The more reps he gets, the better he's getting."
Defensive tackle J.J. Holmes, an explosive athlete for a man his size, has lost 14 pounds and is making bigger contributions.
Josh Ehambe and KeyShaun Simmons have come on in recent weeks.
The secondary hasn't fared as well and Baylor brings a lot of speed at receiver. That portends trouble, but many of KU's typical disadvantages don't apply this week.
Strange as it seems, considering neither team has won a Big 12 game this season, the game has the feel of a highly entertaining one played with a high level of passion and intensity.
"I'm sure they're fired up," Wise said of the Bears. "As fired up as we are."
Too often this decade, suspense hasn't been in the script for Kansas football. Different story this week. This one feels as if those who sit on their tickets will wish they had not.
More like this story on KUsports.com