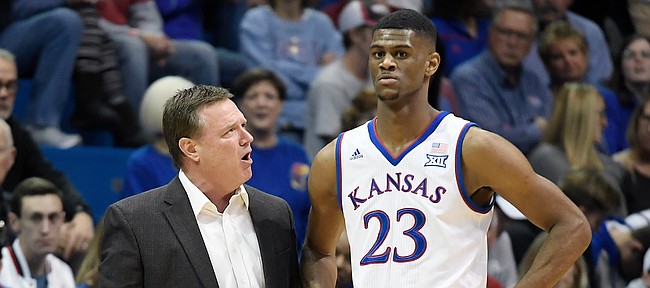 If you're looking for something meaningful to take away from Tuesday's 100-54, exhibition victory by Kansas over Pittsburg State at Allen Fieldhouse, don't look too closely at the stat sheet.
Sure, there are some nice numbers on it, with double-doubles, impressive shooting percentages and utter dominance highlighting most of the columns. But that was to be expected.
What was not as easy to predict entering Tuesday's game was how well this group of Jayhawks would heed the recent instructions from head coach Bill Self about getting to the glass and making rebounding a priority.
Clearly, the Jayhawks had been listening.
Photo Gallery
Kansas basketball v. Pittsburg State (exhibition)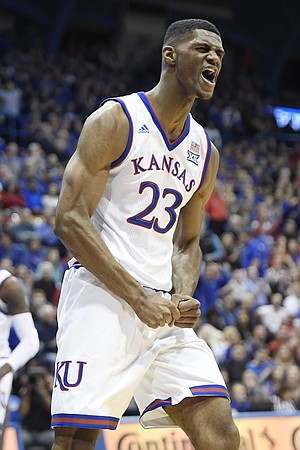 View a gallery of images from the Jayhawks' exhibition game against the PIttsburg State Gorillas at Allen Fieldhouse.
Even though the answer came against an undersized and overmatched Pitt State team, the most encouraging part about Tuesday's 48-29 rebounding edge for Kansas was not the numbers themselves, but the mentality the Jayhawks used to collect them.
Led by double-digit totals from sophomore center Udoka Azubuike (14) and junior guard Lagerald Vick (11 total, five offensive), the Jayhawks made rebounding a priority from the opening tip and helped put some distance between the present day and the disappointment that came from getting out-rebounded by Missouri in the exhibition opener.
But just because Vick went nuts and ran to the offensive glass every time he could, did not mean the rest of the team necessarily followed.
"No. All of us are not as athletic as Lagerald is," joked sophomore guard Malik Newman, noting that he and starting point guard often had a different role when shots go up. "It's not contagious. It should be contagious for those guys (Vick, Svi Mykhailiuk and Marcus Garrett). Me and my little guy, Devonte', we're just gonna get back for balance."
Even Graham and Newman combined for nine rebounds in the victory, but Self made sure to point out after the win that a few of those, along with several by Azubuike likely only came because of Pitt State's lack of size.
Podcast episode
After a 100-54 win over Pittsburg State on Tuesday in an exhibition game, Kansas coach Bill Self discussed what he wants to see from Malik Newman, Lagerald Vick's double-double and more.
"They weren't real rebounds," Self said of Azubuike's 14-rebound total, which, had the game not been an exhibition contest would have been a new career-high for the KU big man. "He got a couple where he had to go get them, but, you know, when you're that much bigger than everybody, you should get more and they weren't shooting a great percentage."
While it might still be a while before Azubuike impresses Self on the glass on a consistent basis the way former KU center Landen Lucas did during the past two seasons, the 7-foot Nigerian said he earlier this week that he had started to take the same approach to rebounding that made Lucas so successful.
"He just went up there and just (went) after the ball," Azubuike said. "That's pretty much what he did. I think that's what I really have to (focus) on in practice, during the game, just try to go after as many balls as I can."
There is, of course, more to it than that. And Azubuike made it clear that he also has been looking into the scientific aspect of the art, as well.
"There's a lot that goes into rebounding," he said. "You can't just rebound the ball. There's angles, you gotta rebound on both ends of the floor. You pretty much try to box your guy out, but sometimes when you box your guy out, the ball might not come to you. It might come to the guy or it might go to someone else. You just have to do your job, try to box out and go for the ball."
That approach worked on Tuesday night. And it might work again next Tuesday, when KU closes out the exhibition portion of their schedule against Fort Hays State.
After that, though, it's anybody's guess. And the habits the Jayhawks are forming now could go a long way toward determining just how well they perform in the rebounding department all season.
"It was a decent game," Mykhailiuk said. "It was not great, it was not awful. It was average. Now we have to get better at defense and rebounding and get prepared for the next game."
— See what people were saying about the game during KUsports.com's live coverage.
---
More news and notes from Kansas vs. Pittsburg State