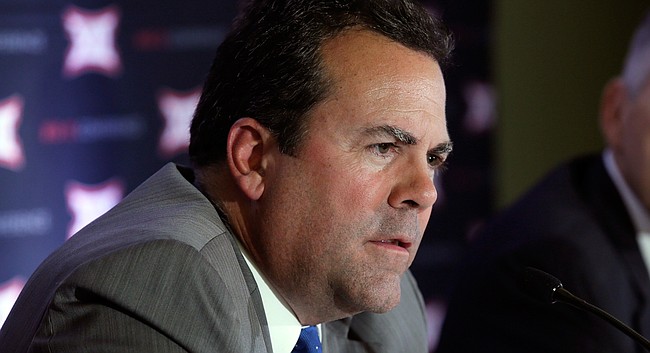 Kansas Athletics Inc. — as opposed to state dollars — will pay the majority of University of Kansas athletic director Sheahon Zenger's salary, which was recently raised to $700,000 and extended for another four years.
The state-funded portion of Zenger's contract is 29 percent, and the KU Athletics portion is 71 percent, according to KU spokesman Joe Monaco.
That calculates to $203,000 paid with state dollars and $497,000 from KU Athletics.
Under the contract, Zenger also is eligible for up to $50,000 in annual performance bonuses — specifically, $40,000 if the football team has a winning season, $5,000 if the women's basketball team has a winning season and $5,000 if the men's basketball team reaches the Elite 8 round of the NCAA tournament.
All performance bonuses also would be paid by KU Athletics, Monaco said.
The public-private percentage breakdown is consistent with how Zenger's salary has been funded in the past.
Zenger's latest contract amendment, effective July 1, stipulates that his employment will extend another four years — through June 2021 — and that his new annual salary will be $700,000. Outgoing KU Chancellor Bernadette Gray-Little signed the agreement in early May, according to the document, which the Journal-World requested and obtained Tuesday.
Zenger has been KU's athletic director since February 2011.
His current base pay is $619,000, according to KU Athletics. The new salary represents a 13 percent raise.
Zenger is an employee of KU and, thus, the state. He reports to the chancellor.
KU Athletics, which manages and oversees intercollegiate athletics for KU, is a university-controlled affiliate corporation of KU.
KU Athletics' total operating budget for the current fiscal year is about $90 million.
Gray-Little announced in September that she'd step down from the chancellorship this summer. On May 25 the Kansas Board of Regents named Douglas Girod, executive vice chancellor of the KU Medical Center, as KU's next chancellor. Girod takes over July 1.
Gray-Little extended Zenger's contract and raised his salary less than two months from when she'll exit the chancellor's office and just a few weeks before Girod was hired, so the incoming chancellor will inherit the high-dollar four-year commitment.
Should KU fire Zenger without cause before his contract expires in 2021, the agreement says the university must pay him a year's salary for each year left on the contract, up to two years — at his current rate of $700,000 the max payout could be as much as $1.4 million.
Monaco said Gray-Little and Zenger began negotiations more than six months ago.
"These types of discussions are complex and take time — much more than some people outside the process realize," Monaco said, in an email. "Since Sheahon's arrival in 2011, Kansas Athletics has enjoyed success on and off the field, and the chancellor is confident that Athletics will experience even more success in the coming years under his leadership."
Have a tip or story idea?
---
More stories