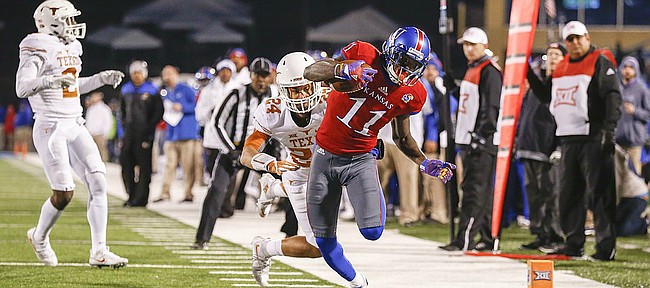 On the first day of the league's annual business meetings in Irving, Texas, the Big 12 Conference on Wednesday revealed kickoff times and television selections for the first three weeks of the upcoming 2017 season, and while only one of the Kansas Jayhawks' three non-conference games will air on a national television network, the rebuilding program's other two early-season contests will air live locally or be available to stream online.
The third season-opener under head coach David Beaty — Sept. 2, versus Southeast Missouri State — will kick off at 6 p.m., at Memorial Stadium, and air on the Jayhawk Network within the state of Kansas and the Kansas City metro area. Such games also are available on ESPN3 for audiences outside of those boundaries.
In Week 2, the competition gets a little more stiff, and the Jayhawks' Sept. 9 home date with Central Michigan will be broadcasted by FOX Sports Net, and begin at 3 p.m.
KU's road opener comes Sept. 16 at Ohio, featuring a 1 p.m. kickoff and a live online broadcast, courtesy of ESPN3. Unlike some KU games over the past several years that have been blacked out by ESPN3 locally, this one — because it's not on the Jayhawk Network — will be available for live streaming throughout the Sunflower State and K.C. area, via ESPN3 or the WatchESPN app.
Additionally, the Big 12 announced broadcast plans and kickoff times for select conference games — including KU's Nov. 11 trip to Texas, which will air both on the Jayhawk and Longhorn networks, with a 5 p.m. start time. Kansas finished 2-10 overall and 1-8 in Big 12 play in 2016, with the KU's lone league victory coming at the expense of Texas, in overtime at Memorial Stadium.
Kickoff times and television plans for KU's eight other Big 12 games will be announced during the season. Kansas plays host to West Virginia to begin conference play on Sept. 23.
Every home Big 12 football game is available for broadcast, in accordance with the conference's 13-year joint agreement with FOX Sports and ESPN.
2017 KANSAS FOOTBALL SCHEDULE
Sept. 2 — Southeast Missouri State (6 p.m., JTV)
Sept. 9 — Central Michigan (3 p.m., FSN)
Sept. 16 — at Ohio (1 p.m., ESPN3)
Sept. 23 — West Virginia (TBA)
Oct. 7 — Texas Tech (TBA)
Oct. 14 — at Iowa State (TBA)
Oct. 21 — at TCU (TBA)
Oct. 28 — Kansas State (TBA)
Nov. 4 — Baylor (TBA)
Nov. 11 — at Texas (5 p.m., JTV/LHN)
Nov. 18 — Oklahoma (TBA)
Nov. 25 — at Oklahoma State (TBA)