Bill Walton so dominated right from the start of his UCLA career that it was unthinkable that anyone could get the better of him in the post. So when LaRue Martin totaled 19 points and 18 rebounds, compared to Walton's 18 points and 16 rebounds, Martin instantly was deemed a terrific NBA prospect.
Never mind that UCLA won the game by 28 points, a legend was born.
The Portland Trail Blazers selected Martin with the first overall pick in the 1972 NBA draft.
It became more of a blessing than a curse for Martin, who averaged 5.3 points and 4.6 rebounds during his four-year NBA career.
An executive for UPS in Chicago, Martin told HBO Real Sports' Bryant Gumbel in an interview five years ago that, "I was even ashamed to go to the games."
Martin didn't make the decision to go first in a draft that included Hall of Famers Julius Erving and Bob McAdoo, but he bore the burden of others' expectations and endured to become an off-the-court success.
Martin told Gumbel that he no longer follows basketball.
Until UNLV one-and-done power forward Anthony Bennett flamed out after a four-year NBA career in which he averaged 4.5 points and 3.3 rebounds, Martin was held up as the poster child for NBA draft busts.
Martin still is the only member of another club. Of the 65 college basketball players chosen with the No. 1 overall selection in the NBA draft, Martin is the only one selected from a school with a losing record that season. Coach George Ireland's Ramblers went 8-14, including that 92-64 loss to UCLA during Walton's sophomore season.
Martin spent the final two seasons of his career as Walton's backup.
If the NBA mock drafts are on target, no guarantee, then Martin is about to have company.
Guard Markelle Fultz, media mock draft darling and just about everybody's guess at the No. 1 pick, played for a Washington squad that went 9-24. In fairness, the Huskies went 0-5 in games Fultz missed. Still, the Huskies went 9-19 with him in the lineup.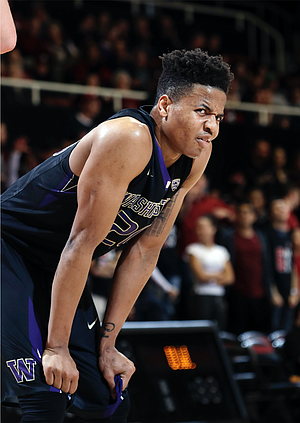 Interestingly, Fultz played one game head-to-head against UCLA's Lonzo Ball, who appears second on many mock drafts.
Fultz totaled 25 points, six rebounds and five assists. Ball had 22 points, six rebounds and five assists. It's a near statistical standstill similar to the Martin-Walton matchup. And the game was a much bigger blowout. UCLA won, 107-66.
A closer look at the box score gives Ball the edge. He made 7 of 12 field goals and 4 of 7 3-pointers. Fultz made 9 of 19 shots, including 2 of 5 3-pointers.
Does anyone on the planet believe that if Josh Jackson had played for Washington instead of Fultz that UCLA would have scored 107 points?
A look at the college players selected No. 1 in the NBA draft, their college and schools record that season:
1947: Clifton McNeeley, Texas Wesleyan (30-4);
1948: Andy Tonkavich, Marshall (22-11);
1949: Howie Shannon, Kansas State (13-11);
1950: Charlie Share, Bowling Green (19-11);
1951: Gene Melchiorre, Bradley (32-6);
1952: Mark Workman, West Virginia (23-4);
1953: Ray Felix, Long Island (20-4);
1954: Frank Selvy, Furman (20-9);
1955: Dick Rickets, Duquesne (22-4);
1956: Sihugo Green, Duquesne (17-10);
1957: Rod Hundley, West Virginia (25-5);
1958: Elgin Baylor, Seattle (23-6);
1959: Bob Boozer, Kansas State (25-2);

1960: Oscar Robertson, Cincinnati (28-2);
1961: Walt Bellamy, Indiana (15-9);
1962: Bill McGill, Duke (20-5);
1963: Art Heyman, Duke (27-3);
1964: Jim Barnes, Texas Western (25-3);
1965: Fred Hetzel, Davidson (24-2);
1966: Cazzie Russell, Michigan (18-8);
1967: Jimmy Walker, Providence (21-7);
1968: Elvin Hayes, Houston (31-2);
1969: Kareem Abdul-Jabbar (then Lew Alcindor), UCLA (29-1);
1970: Bob Lanier St. Bonaventure (25-3);
1971: Austin Carr, Notre Dame (20-9);
1972: LaRue Martin, Loyola (8-14);
1973: Doug Collins, Illinois State (13-12);
1974: Bill Walton, UCLA (26-4);
1975: David Thompson, NC State (22-6);
1976: John Lucas, Maryland (22-6);
1977: Kent Benson, Indiana (14-13);
1978: Mychal Thompson, Minnesota (17-10);
1979: Magic Johnson, Michigan State (26-6);
1980: Joe Barry Carroll, Purdue (23-10);
1981: Mark Aguirre, De Paul (27-2);
1982: James Worthy, North Carolina (32-2);
1983: Ralph Sampson, Virginia (29-5);
1984: Hakeem Olajuwon, Houston (32-5);
1985: Patrick Ewing, Georgetown (35-3);
1986: Brad Daugherty, North Carolina (28-6);
1987: David Robinson, Navy (26-6);
1988: Danny Manning, Kansas (27-11);
1989: Pervis Ellison, Louisville (24-9);
1990: Derrick Coleman, Syracuse (26-7);
1991: Larry Johnson, UNLV (34-1);
1992: Shaquille O'Neal, LSU (21-10);
1993: Chris Webber, Michigan (31-5);
1994: Glenn Robinson, Purdue (29-5);
1995: Joe Smith, Maryland (26-8);
1996: Allen Iverson, Georgetown (29-8);
1997: Tim Duncan, Wake Forest (24-7);
1998: Michael Olowokandi, Pacific (23-10);
1999: Elton Brand, Duke (37-2);
2000: Kenyon Martin, Cincinnati (29-4);
2005: Andrew Bogut, Utah (29-6);
2007: Greg Oden, Ohio State (24-13);
2008: Derek Rose, Memphis (38-2);
2009: Blake Griffin, Oklahoma (30-6);
2010: John Wall, Kentucky (35-3);
2011: Kyrie Irving, Duke (35-5);
2012: Anthony Davis, Kentucky (38-2);
2013: Anthony Bennett, UNLV (25-10);
2014: Andrew Wiggins, Kansas (25-10);
2015: Karl-Anthony Towns, Kentucky (38-1);
2016: Ben Simmons, LSU (19-14).
More like this story on KUsports.com