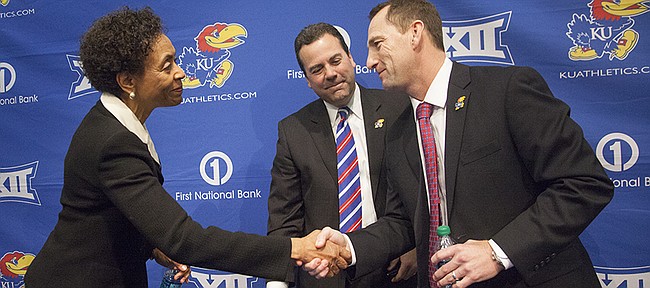 How much is a winning football season worth?
An extra $40,000 a year for University of Kansas athletic director Sheahon Zenger.
That annual performance bonus is among specific perks — rather, potential perks — outlined in Zenger's latest contract renewal, requested and obtained Tuesday by the Journal-World.
Outgoing KU Chancellor Bernadette Gray-Little and Zenger signed the latest amendment to Zenger's employment agreement on May 4 and May 2, respectively, according to the document.
The new agreement, effective July 1, stipulates that Zenger's employment will extend another four years — through June 2021 — and that his new annual salary will be $700,000.
Zenger has been KU's athletic director since February 2011. His current base pay is $619,000, according to KU Athletics. The new salary represents a 13 percent raise.
The updated agreement specifically states that Zenger's performance objectives "will include progress toward establishing a successful football program."
Under the agreement, Zenger is eligible for up to $50,000 in annual bonuses contingent on certain teams' success — notably, each goal is relative to that particular team's current record. According to the agreement, he will receive:
• $40,000 if the football team has a winning record, defined as a record of at least as many wins as losses, not counting bowl games.
"For example, if the team finishes the regular season with six wins and six losses, Athletics Director will qualify for this bonus," the agreement says.
• $5,000 if the women's basketball team has a winning record during the regular season.
• $5,000 if the men's basketball game reaches the "Elite 8" round of the NCAA men's basketball tournament.
The bonus language appears to indicate that Gray-Little and the university want to see the lion's share of Zenger's efforts focused on turning football around.
Last fall, the KU football team finished its eighth consecutive season with a losing record. And the team's 2016 season record of 2-10 was widely viewed as a step forward; its 2015 season record was 0-12.
KU football has won just nine games total in five seasons under head coaches hired by Zenger.
The KU women's basketball team's 2016-17 record was 8-22, including a loss in the Big 12 tournament.
The KU men's basketball team made the NCAA Elite 8 the past two seasons, while continuing to strive for another national championship, the last of which KU won in 2008. KU was runner-up in 2012, losing to the University of Kentucky in the championship game.
As it did when Zenger was first hired, the updated contract still stipulates that if he is fired without cause, he will be paid one year of salary for every year remaining on his contract, up to a maximum of two full years of salary.
That maximum would be $1.4 million, based on Zenger's new salary of $700,000.
Gray-Little, who has led KU since August 2009, announced in September that she would step down as chancellor this summer.
Her successor was named on Thursday. The Kansas Board of Regents hired Douglas Girod, executive vice chancellor of the KU Medical Center, to take over as KU chancellor beginning July 1.
As for the timing of the contract extension — less than a month before KU's next chancellor was named — Jim Marchiony, KU Athletics director for public affairs, referred questions to KU public affairs. That office did not respond to the question late Tuesday afternoon.
It's also not clear how much of Zenger's new salary will be paid by the university versus private dollars through KU Athletics. That information was not available late Tuesday. However, in the past more than half has been paid by private funds.
In a previously reported statement, Zenger said he was pleased to have the opportunity to continue representing KU.
"I have really enjoyed sharing in the tremendous accomplishments so many of our teams have achieved over the past several years," he said. "Likewise, we are committed to doing everything we can to raise the level of success of every one of our teams."
Gray-Little said, also in the statement, that since Zenger's arrival in 2011 the Jayhawks have "enjoyed success on and off the field."
In addition to several teams' NCAA tournament appearances, the chancellor's statement cited successful construction and renovation projects as well as KU athletes' graduation rates.
— The Journal-World's Matt Tait contributed to this story.
Have a tip or story idea?
---
More stories