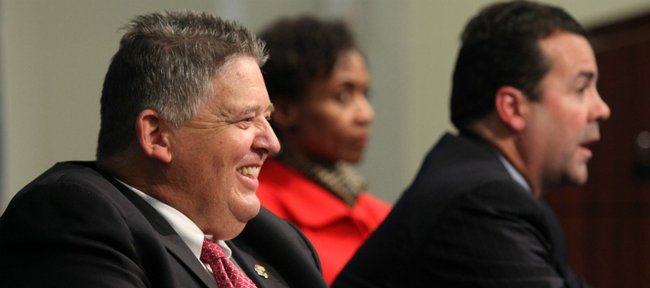 So let me get this straight: Dr. Doug Girod was chosen to lead the University of Kansas into the next decade, but the retiring boss gets to decide who will lead the new chancellor's athletic department.
Wow!
This couldn't wait a couple of months? Before even considering whether Sheahon Zenger deserved the contract extension through 2021, let's acknowledge the obvious: Girod deserved to make that decision. He was owed that courtesy. Period.
If I'm Girod, I'd feel as if I were just the victim of a hustle. I'd feel like the golfer who figures out he just got parking-lotted, which is a scam that three golfers cook up in the parking lot before the fourth arrives. They agree that after throwing up balls, whoever gets the fourth as a partner, intentionally plays poorly enough to lose all the bets. Then in the parking lot before going home, the three scam artists split the winnings three ways. Everybody wins except the one guy who arrived at the golf course with good intentions.
Girod conceivably could have arrived at the same conclusion as chancellor Bernadette Gray-Little. Now we'll never know, no matter who spins what.
Might the candidates for the chancellor's job been told during interviews that Zenger was getting an extension and then asked if they had any objections? If so, that's not the way to handle it. Hire the best and turn over the decision to the new chancellor.
I was shocked at the timing simply because it's akin to a muddy welcome mat at the chancellor's residence.
I should have seen it coming because I had just read a clue. Zenger's quotes to the Journal-World's Matt Tait after the naming of the new chancellor didn't come across as the words of a man insecure about his position and looking to carry the new boss' bags for him. Regardless of Zenger's intentions, the words came across as those of a man who considers himself an equal to his new boss.
"I've had the opportunity to work with Dr. Girod since I've been here over the past six years and, more specifically, since 2013, during the time that he's been the executive vice chancellor at the medical school," Zenger said. "He's been a valuable colleague during that time as we have worked on issues that pertain to both athletics and the medical school. With both of us being members of the cabinet, I've seen him interact at a high level with issues that pertain to the University of Kansas at large."
Fortunately, Dr. Girod has had a better record than 9-51 on his surgeries.