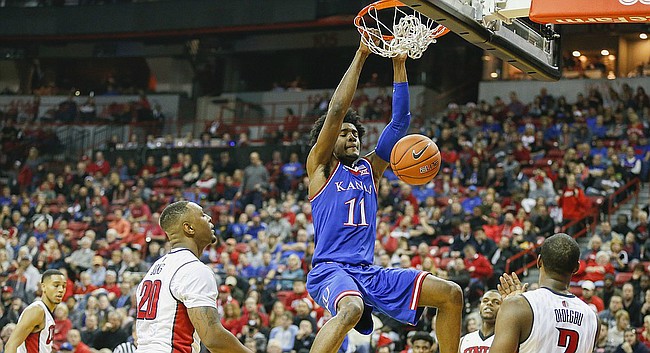 The one-and-done college basketball culture created by the NBA, which wanted a free look at top prospects competing for a year against college competition, decreases the chances of completing whiffing with the first pick of the draft.
Still, it's far from a guarantee. (Before reading about a recent bust, a word of caution to those who suffer from tetraphobia: Don't read the next paragraph.)
Just four years ago, the Cleveland Cavaliers selected Anthony Bennett No. 1 overall after his freshman season at UNLV. Bennett appeared in 151 games in four NBA seasons for four different teams and averaged 4.4 points. In his first four NBA games, he scored two points and went 0 for 15 from the field.
The Brooklyn Nets became the third team to release Bennett, now playing in Turkey for Fenerbahce Istanbul. In 10 games, he's averaging 1.2 points per game.
One of Bennett's quotes from draft night should have sounded an alarm. He explained why he didn't start playing basketball until the age of 11 or 12: "I just started growing and everyone said, 'You should probably play basketball.' So I said, 'All right. I'll give it a shot.' "
He took up the game because of the love others who wish they had his size had for basketball. It's a common tale with tall men who fall shy of expectations.
The six best prospects in this year's deep, fascinating draft all play on the perimeter, so the chances of a big flop are minimal.
The top six, in alphabetical order: Lonzo Ball (UCLA), De'Aaron Fox (Kentucky), Markelle Fultz (Washington), Josh Jackson (Kansas), Malik Monk (Kentucky) and Jayson Tatum (Duke).
Fultz, a 6-foot-4 point guard blessed with a soft shooting touch and a 7-foot wingspan, tops just about every mock draft, but I'm not buying it. The Huskies went 9-24. Duke, Kansas, Kentucky and UCLA combined to lose 25 games.
Fultz showed no interest in playing defense in college. If he's rewarded by hearing his name called first, what's his incentive to start playing it now? Jackson's the smart choice.
More like this story on KUsports.com