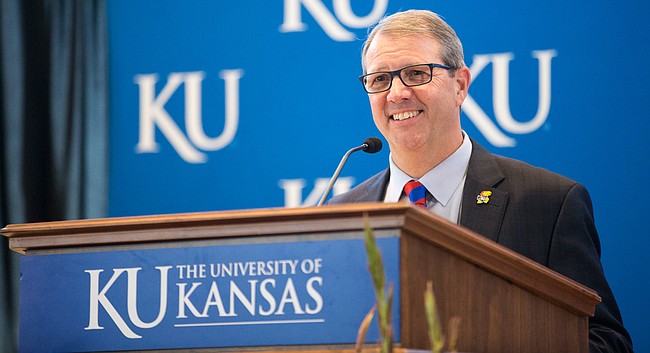 Although the biggest roles and responsibilities of newly named University of Kansas chancellor Dr. Doug Girod figure to land well outside of the world of college athletics, KU athletic director Sheahon Zenger said Friday that the university was well positioned for whatever crossover may exist.
"I've had the opportunity to work with Dr. Girod since I've been here over the past six years and, more specifically, since 2013, during the time that he's been the executive vice chancellor at the medical school," Zenger told the Journal-World. "He's been a valuable colleague during that time as we have worked on issues that pertain to both athletics and the medical school. With both of us being members of the cabinet, I've seen him interact at a high level with issues that pertain the University of Kansas at large."
Introduced Thursday as KU's 18th chancellor and the successor to Bernadette Gray-Little, Zenger said Girod's 23 years of service to the university and sincere love of all things KU made him a terrific fit.
Serving as the head of KU's athletic department since early 2011, Zenger developed a strong bond and often worked closely with Gray-Little, particularly on matters concerning the Big 12 Conference.
While the most sparkling aspects of Girod's resume seem to highlight his work in the fields of research, academics and medicine, Zenger said he believed KU's new leader would fill Gray-Little's shoes in those areas, as well.
"I've grown to admire and respect Dr. Girod's intellect," Zenger said. "And I see that as being a real asset to carry on Chancellor Gray-Little's role in the Big 12 Conference meetings."
Beyond that, Zenger said his early sense was that Girod would be a valuable part of the university's continuing efforts to grow the athletic department and offer complete support to all of KU's athletic programs.
Zenger said Girod showed a constant desire to educate himself on the challenges at the many levels of college athletics and with limited opportunity the two leaders developed a strong bond based around their shared interest in making KU the best university it can be.
"During the times when we have worked together, Dr. Girod has demonstrated that he is very supportive of athletic endeavors," Zenger said. "He always asked the necessary questions about the issues of our time with regard to the NCAA and the needs of the University of Kansas on all things athletics and I am looking forward to continuing to partner with him in that manner."