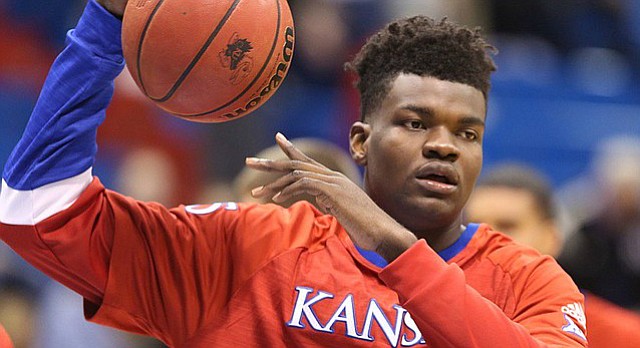 Kansas center Udoka Azubuike's recovery from the wrist injury that cost him the final three months and 25 games of the 2016-17 season remains in good shape.
KU coach Bill Self told the Journal-World on Thursday that Azubuike was "right on schedule" with what team doctors had hoped during the rehab process.
"We anticipate him being full contact next week," Self said. "And that's right where the doctors said he'd be."
The 7-foot freshman was injured during a fluke incident at a December practice prior to KU's road game at UNLV last season. Initially unsure of how serious the injury was, Azubuike finished the practice and did not learn until medical personnel conducted tests and looked more closely at the injury that it would cost him the bulk of his freshman season.
A starter in six of the 11 games he played as a true freshman, the big man from Nigeria appeared to be well on his way to being a difference maker down low for the Jayhawks last season.
Despite the injury, Azubuike continued to work closely with the team throughout the season, even going through workouts that did not put the wrist in any jeopardy. Self said earlier this spring that the KU big man did more running and conditioning after the injury than he did before it.
Although the season did not allow for much on-the-court learning, Azubuike learned a lot from film and from observing the Jayhawks in action and will enter the summer leading up to the 2017-18 season expected to be a major part of next season's team.
Since the end of the school year, most of the Jayhawks have been home visiting family and doing solo workouts for the past couple of weeks. Self said the team was expected to report to campus next week for the beginning of summer workouts.
KU's newcomers — transfers and freshmen alike — have targeted June 4 as their report date and the team will kickoff the summer by ushering in workouts with Andrea Hudy, pick-up games with current and former players and working Bill Self's basketball camps the first two weeks of June.