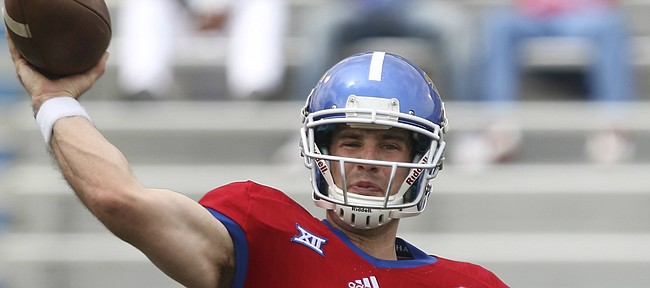 Upon spending 15 spring practices and many more unofficial, player-organized sessions with new Kansas quarterback Peyton Bender, receiver Steven Sims Jr. caught enough balls from the former Washington State QB to know Bender had the type of arm the Jayhawks' Air Raid offense needed.
It left Sims eager to see how the possible starting quarterback would handle some other intangibles that come with that position.
"He's just quiet. I'm trying to get him out of his shell," Sims said near the completion of spring football.
According to Sims, KU's leading returning wideout, Bender made progress on that front, as well, as he competed against reigning starting QB Carter Stanley. During the spring game, Sims noted Bender was more talkative and clearly enjoying the moment. At one point during the scrimmage, Stanley threw what looked to be a touchdown before a penalty wiped it off. Sims said before both sides knew the score had been negated Bender already was rallying his teammates.
"We've gotta go score. We've gotta go match. We've gotta go get another one," Sims relayed of Bender's message — an example of the QB asserting himself.
Asked whether Stanley was more talkative, Sims explained a chief distinction between the redshirt sophomore Stanley and the junior transfer Bender, who played last season at Itawamba Community College (Miss.).
"You know Carter's going to talk. Carter talks. He's always laughing," Sims said, before predicting Bender would get there, too. "… Those two are always together, laughing, talking. Peyton's just a little more quiet. Carter's kind of quiet, too. But Carter's been here for three years. Peyton just got here."
Third-year Kansas football coach David Beaty said his expectations for Bender were no different than his hopes for any quarterback he coaches.
"I want to see that the guy can manage the game for us, that he'll take care of the ball, he'll value possessions and that he can move our football team. It's really not much more than that. It comes down to moving the ball, putting the ball in the end zone, managing the game and being able to take care of the ball and valuing possession," Beaty said, adding leadership qualities also matter. "That's going to be very important for us and it has been from the day I started coaching. That's what you're looking for in a QB: a guy that can get you in the end zone."
Following a spring game in which he threw a touchdown pass apiece to Sims and sophomore receiver Daylon Charlot, Bender gave a self-assessment of his play at quarterback since arriving at Kansas.
"I've been pleased. There's room for improvement, though," Bender said. "There's plenty of mistakes I've made and I've just got to continue on the learning curve, the learning process of the offense."
According to Sims, a key target for whomever becomes the Jayhawks' starting QB, additionally, it's important for the offense that Bender take an active vocal role.
"At quarterback, that's pretty much one of the leaders of the team. I feel he's going to settle in," Sims forecasted. "He's only been here for a couple months… He's going to get out of that shell. I know he is."