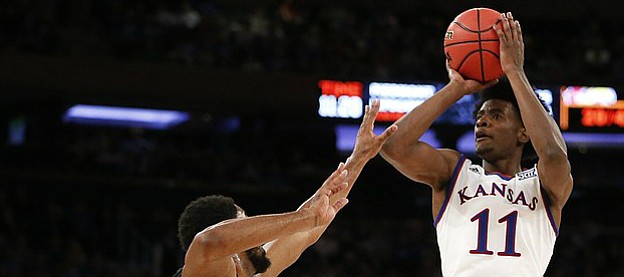 Nobody can dispute the identity of the greatest champion in the history of team sports. Bill Russell won 11 NBA titles in 13 seasons with the Boston Celtics.
So when I hear somebody say, "He'd make a great Celtic," I think of all the traits Russell brought to battle. First, he was smarter than anybody else.
One of his more famous quotes opened a window to the mind that gave him an edge: "The idea is not to block every shot. The idea is to make your opponent believe that you might block every shot."
Next, his unselfish attitude, copied by teammates who didn't dare incur his wrath, made the Celtics greater than the sum of their parts, which were quite talented as well.
Russell didn't hunt statistics. He hunted the basketball to grab rebounds that he would turn into outlet passes, followed by mad dashes down the court, followed by tip-ins. He didn't assign lesser or greater value to any aspect of the game. He played all-out, all the time and in the process inspired teammates and deflated opponents.
The third thing that made Russell so great was the nasty, competitive edge he brought to every game.
Next, he had an abundance of physical gifts. He could run so fast and had such remarkable quickness for a man his size, had great vision, explosive jumping ability, reliable hands. He had it all.
So to say someone would make a great Celtic is not a sentence that should be tossed around very often. Sam Jones, John Havlicek, Jo Jo White, Larry Bird and Paul Pierce all made great Celtics, although nobody can dispute that Russell was the greatest Celtic.
The Celtics own the first pick of the NBA draft and many believe they will trade for an established veteran. Others are convinced Markelle Futlz from Washington will be the first pick.
I think Josh Jackson would make a great Celtic for the same reason Russell was the greatest Celtic. Smart, unselfish, nasty competitive edge, physically gifted.
Mock drafts never put Jackson on top, but here's the thing about mock drafts: General managers sit around and mock them.
They aren't based on inside information leaked by organizations. They guard those secrets the way Jackson guarded Baylor's 5-foot-11 Manu Lecomte on the game's final possession after checking 7-foot Jo Lua-Acuil most of the game, which is to say GMs guard those secrets as if their futures depended on not letting the truth come out.
Fultz has a prettier jumper than Jackson, but the smarts, drive and humility Jackson showed in improving his 3-point shot under Kansas assistant coach Kurtis Townsend's tutelage says a lot about how Jackson doesn't think he knows it all and is determined to become better.
In his first 18 games, Jackson had a .237 3-point shooting percentage. He shot .481 from 3 in his final 17 games after raising his release point, developing a quicker release and better shot selection.
He still needs to have a higher and quicker release, improvements he already has shown he can make because he's coachable.
Lonzo Ball also routinely is listed ahead of Jackson in mock drafts, but it's not as if a picture of his jumper his hanging on the walls of the Louvre either.
More like this story on KUsports.com