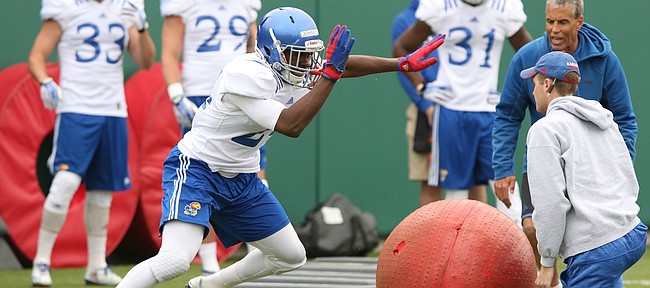 The past several months could have been a breeze for Kyron Johnson. A semester's worth of classes to wrap up his days at Lamar High, in Arlington, Texas. Some weight-lifting and conditioning to stay in football shape. Hanging out with longtime friends before they all parted ways as incoming freshmen at various universities.
Johnson, though, opted for a more demanding path, in order to get a head start on his college career.

The three-star prep linebacker graduated early, left his home state behind, enrolled at the University of Kansas for the spring semester and began practicing with the Jayhawks far ahead of schedule — in March, instead of August.
As good as KU defensive coordinator Clint Bowen suspects this plan of attack will be in the long run for Johnson, that didn't make the young prospect's introduction to the Division I level any easier.
Could Bowen tell Johnson was a would-be high-schooler competing alongside and against college freshmen, sophomores, juniors and seniors?
"Oh, yeah," KU's assistant head coach said a few practices into the spring. "He's clueless."
Bowen, though, made that assessment, with a qualification.
"It's not even fair, you know what I mean? Spring ball is harder than the fall," Bowen said of Johnson's challenging, though valuable, predicament.
For one thing, most freshmen players arrive in early summer, and have more time to get acclimated before preseason practices commence.
"In the spring there's just 15 practices," Bowen added, "so you try to get a lot more crammed in. It's almost like a sped-up class, a little bit."
Johnson at least arrived for his crash course equipped with the skill set to survive.
Third-year KU head coach David Beaty said Johnson can legitimately run the 40-yard-dash in 4.3 seconds.
"This guy can flat fly," Beaty declared, "and he will knock you out."
Kansas coaches first discovered Johnson during one of his high school practices and liked what they saw. By the time the linebacker moved to Lawrence, Beaty said Johnson was close to 6-foot-2 and 210 pounds.
"This guy is the type of guy that you want," Beaty said.
The potential was easy to spot at spring practices, according to Johnson's new teammate, junior linebacker Joe Dineen. When discussing the less experienced players at his position who impressed, Dineen said "K.J.," as Johnson's teammates call him, can play.
"He's fast. He doesn't necessarily know what he's doing right now as a freshman," Dineen admitted, "but he's gonna be good."
A pre-medicine major who hopes to one day become a neurosurgeon, Johnson is considered a "great kid" by Bowen.
"He's worked hard. He's a very talented young man," KU's defensive coordinator said. "He'll be all right. But right now he's just trying to stay above water."
In the longterm, though, Bowen thinks Johnson will benefit greatly from the 15 spring practices he — unlike the vast majority of 2017 freshmen — got to experience.
"And when (August) camp comes around he gets the second time going through the install and all of that," Bowen said, "he'll take off then."
— A previous version of this story included an incorrect weight for Johnson.