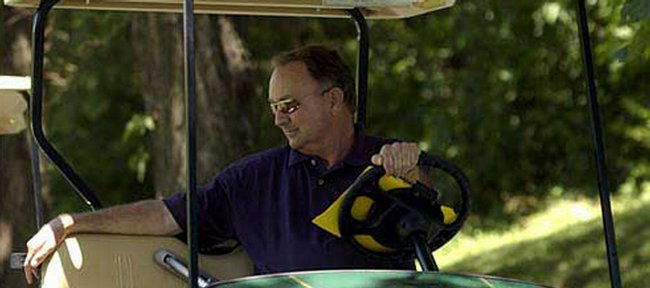 The mad scientist in long-time club pro Jeff Burey has come up with another terrific idea for an unconventional, entertaining day of golf.
The Ross Randall Par 3 Shootout, at Twin Oaks Complex, a pitch-and-putt golf course and driving range off of K-10 in Eudora, is set for June 26, and is a Burey brainchild.
A field of 32 local golf pros and former Randall players at Kansas now working as golf pros outside the area, will pay a $100 entry fee to compete in a single-elimination match-play tournament. All proceeds generated by title and hole sponsors will go to Midwest Section PGA Foundation, a 501 (c) (3) charity. Admission is free and a table will be set up to take donations for the foundation for anybody in a generous mood.
The event is listed on PGA Midwest Section calendar of events and will count toward the player-of-the-year standings, currently led by Robert Russell of The Nicklaus Golf Club at Lionsgate. (Former Free State High golfer Nick Burkart of Mission Hills ranks eighth).
The players, who will be limited to three clubs and will not carry golf bags, will compete for more than points. There will be a $3,000 purse, Burey said.
"Ross used to bring the golf team to Twin Oaks to play prior to tournaments," said Burey, who runs Twin Oaks, gives lessons there and mows the grass. "He had a rule: If you didn't shoot 27 or better, you had to play it again. Some of the kids had to go around two or three times. It was a good incentive to work on your short game."
Burey came up with the idea for the tournament as a way to honor Randall, who after retiring from KU moved with wife Linda to Florida.
Randall died April 21 in his home of a heart attack.
"It was all planned," Burey said. "We were ready to rock and roll with it and all his former players working as professionals were excited about. Ross loved the idea. With the tragic loss of Ross, I immediately said, 'Well, I guess that's done.' But the more I got to thinking about it and the more I talked to people who knew and loved Ross, they'd say, 'We have to do it. It's even more important now that we do it.' Hopefully, it will become an annual event and we can put together a traveling trophy for it."
Burey has a rich golf history, some of it told in newspaper clippings in the Twin Oaks pro shop. He worked at famed Pinehurst in North Carolina, where he became friends with then-No. 3 assistant to Dean Smith, Roy Williams. It was at Pinehurst that Burey came up with the idea for the first Golf-a-Thon. He and Golf World writer Michael Dann played all six Pinehurst courses in one day, teeing off at dawn and sinking the final putts at 7:30 p.m. The sportswriter defeated the golf professional at his own game, by the way. Typical.
Burey left Pinehurst and was hired at Wolf Creek, where he was when Williams took the basketball head coaching job at Kansas. Burey was at Wolf Creek when Randall won the first Midwest Section match-play tournament played there in 1981.
When Roy came to Kansas, he played Wolf Creek many times at the invitation of Burey. Royals Hall of Fame third baseman George Brett and then Kansas City Chiefs head coach Marty Schottenheimer were members at Wolf Creek at the time. Brett, Schottenheimer, Williams. It was too rich a blend of big names for it not to energize a lightbulb in Burey's head. He organized a Sunflower Skins game in 1998, with each of the three celebrity competitors donating his winnings to his favorite charity.
"They all came in limos and were greeted by their mascots," Burey said. "We had about 3,500 people watching. I hope this event will draw spectators. It's going to be a great way to celebrate Ross."
Randall, a man who helped so many enjoy golf through his annual summer camp and countless funny stories, is a man worth celebrating.