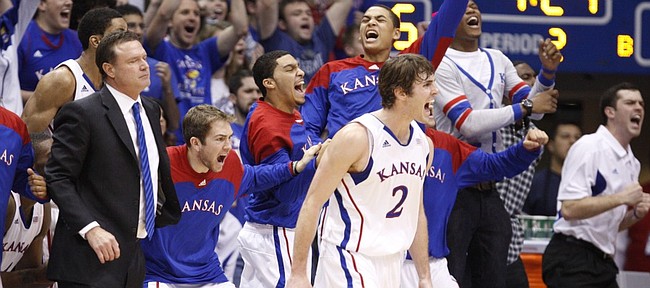 There's something about football that lives in the blood of those Teahan brothers.
Like his brother Conner before him, Chris Teahan wrestled with the idea of whether to play football or basketball after a standout career in both sports at Rockhurst High.
Last month, the 6-foot-5, 180-pound shooting guard made official his decision, announcing that he would join the Kansas basketball team as a walk-on this summer, putting an end to months of debate and ushering in the beginning of his dream journey.
"Last summer I thought I was gonna play football (in college)," Chris recently told the Journal-World. "I just didn't know where. And then I got into the season and I just didn't love contact enough. Conner got to play quarterback. I was kind of out there at wide receiver getting roughed up a bit, so I think that's gonna be easier with basketball."
Don't confuse Chris' words about basketball being a less physically demanding sport for a belief that basketball will be less intense. He knows what he's getting into. And he has his older brother to thank for that.
Remember, Conner, who was a standout QB at Rockhurst during his prep days, so missed football that he actually tried out for a spot on the Kansas team during the spring of 2010 under then-coach Turner Gill.
The experience was short-lived. Conner was one of five or six quarterbacks vying for snaps that spring and never really came close to making the depth chart. But he gave it a shot. And that example helped inspire Chris to do the same with basketball.
"When I brought it up to him, I was like, 'Hey, I kind of want to do what you did,'" Chris recalled of the conversation with Conner about his desire to play basketball at KU. "And he was like, 'Go for it. It's the best experience you can possibly have, but it's gonna be hard.'"
How hard? Chris believes he has a better understanding than most in his position. Not because he talked about the ins-and-outs of the grind on a daily basis with Conner during his KU playing career from 2008-12. But because he has talked about it with him recently and those conversations about following in his brother's footsteps brought the two even closer together.
"Obviously, I watched him do it for five years so that kind of made me dream about going to play KU basketball more than I already had," said Chris, adding that playing basketball at KU was a goal of his long before Conner ever did it. "With him having gone through it, I kind of know what's coming and having him talk me through it and help me understand what I need to do, that's helped a lot."
Armed with a couple of NAIA offers and some interest from junior colleges around the state, Chris never really considered any of them. He always knew, deep down, that if he was going to play college basketball it was going to be in Lawrence at Allen Fieldhouse and he's now a couple of weeks away from making the dream a reality.
Chris will graduate from Rockhurst Sunday and plans to move into McCarthy Hall on June 4. He did not yet know the details of his living arrangements but it's clear that he's ready to get started.
"We went through workouts together this summer and he was just telling me different things that (Kansas) Coach (Bill) Self looks for," Chris said of his collaboration with Conner. "He pretty much just told me that you need to attack every day with the mentality that you're a killer and that you're not there just to be a walk-on, you're there to play. I understand that it's gonna be hard and I understand that Coach Self's gonna be hard on me, but I'm up for the challenge."
As for what his decision means for his family, Chris said adding to the Teahan legacy in Lawrence was one of the most exciting parts about his upcoming adventure.
"It means a lot," he said. "My parents are super excited, my whole family's super excited. The support they gave me throughout the entire thing was awesome. Having Conner up there to begin with was sweet and it'll be great to be able to add on to that. It's amazing. I couldn't wish for anything better."
Well, maybe one thing. After all, despite the gap in their ages, the two are still brothers and have a tendency to compete against one another whenever possible.
"Playing and contributing to a national championship team would obviously be my ultimate goal in this whole thing," said Chris, noting that Conner did not play in the 2008 title game and fell one win shy of winning it all in 2012. "Topping him in our sibling rivalry would be really cool."