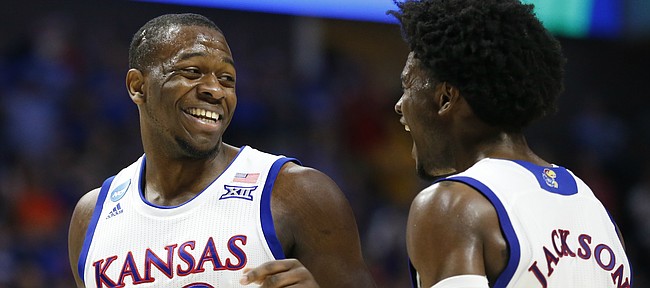 Kansas forward Dwight Coleby, who graduated from KU on Sunday, announced Monday evening that he will be leaving Lawrence and seeking playing time elsewhere.
Although the move cuts into KU's depth in the front court, it hardly came as a surprise to Kansas coach Bill Self.
"I don't know that we have plenty (of depth)," Self told the Journal-World regarding KU's four-man inside rotation of Udoka Azubuike, Mitch Lightfoot, William & Mary transfer Jack Whitman and incoming freshman Billy Preston. "But the reason we took Whitman was because we knew that this could happen. We're not gonna be deep up front by any stretch, but we'll have as many big guys to play with next year as we had this year."
Coleby, the 6-foot-9, 240-pound, former Ole Miss transfer who joined the Jayhawks before the 2015-16 season, played 5.6 minutes per game for Kansas during the 2016-17 season — his first year eligible in a KU uniform — and spent most of his time in Lawrence rehabbing a knee injury that took away some of his explosiveness. Slotted into a reserve role, Coleby, whom Self said did "everything we've asked him to do," had a couple of bright moments during his one season as a Jayhawk but mostly was a bit player on a thin KU team.
"Dwight and I have visited about this multiple times since the end of our season and he has worked so hard academically to put himself in a position to make this decision," Self said in a news release. "We wish Dwight nothing but the very best moving forward. He felt the opportunity to go to a place and have the option to play quite a bit more and have more of a significant role would enhance his chances to play professionally in the future.... We not only support him but also agree that this could potentially help his post-college professional options."
Although his basketball career did not unfold quite the way he thought and hoped it would at Kansas, Coleby said he was looking forward to finding a good fit for his future — as a graduate transfer he will be immediately eligible to play during the 2017-18 season — and cherished the fact that he was a KU graduate and would always think fondly of his time in Lawrence.
"I would like to thank the coaching staff for allowing me to come here," the Nassau, Bahamas native said in the release. "I'd like to thank my teammates for their support the past two years. I'd like to thank the fans for cheering me on and believing in me. KU is a part of my heart. It's my alma mater and I am proud to have earned my degree from KU. I will always be a Jayhawk."
While Coleby's departure is merely the latest in a wild offseason of comings and goings associated with the KU basketball program, it does help KU in the numbers game.
One over the scholarship limit of 13 with Coleby in tow, KU now is right at the limit and would stay there if junior guard Svi Mykhailiuk were to elect to return to KU for his senior season.
If Mykhailiuk instead chooses to take his chances in this summer's NBA Draft, KU then would have one scholarship available to hand out before the 2017-18 season, should Self and company choose to do so.
At this point in time, it's hard to say which direction the Jayhawks will go. For one, Mykhailiuk has until May 24 to make a decision about his future. For two, nearly all of the top talent in the 2017 recruiting class is already signed or looking elsewhere.
Even if Mykhailiuk leaves and the Jayhawks stand pat, Self said he was confident the four big men on the roster would be able to shoulder the load.
"It depends on Udoka and if Billy and Mitch progress and, of course, what Jack can do when he gets in here," Self told the Journal-World. "But we're still in pretty good shape."