The Kansas men's golf team dug itself a hole Monday in Austin, Texas, that it will need to dig out from the next two days in order to advance to the NCAA championships in Sugar Grove, Ill.
The Jayhawks finished the first day of the Austin regional in 11th place at 12-over par, 19 strokes behind leader Texas and, more importantly, six strokes behind three schools tied for fourth place.
The top five of the 14 schools competing in the Austin regional will advance.
Five players from each school compete and only each school's top four scores each day count in the three-day, 54-hole event at the University of Texas Golf Club.
Ole Miss performed best among schools not competing on their home course with a 2-under 282 total, followed by Oklahoma State (287). Entering the second round, Iowa State, Arizona State and North Carolina State are tied for fourth at 290. College of Charleston (291), Liberty and Wake Forest (294) and Georgia Southern also are ahead of Kansas (296).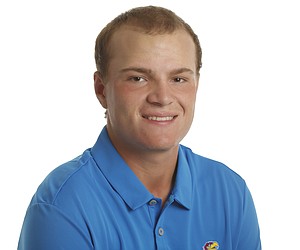 UT's Scottie Scheffler shot a 5-under 66 to lead the field on the first day.
Big 12 individual champion Chase Hanna, a senior, and freshman Andy Spencer, Hanna's high school teammate at Shawnee Mission East, were KU's best first-day performers, both carding a 1-over 72, tied with four other players for 18th. Hanna had ballooned to 3-over before carding birdies on two of the final five holes. As did Hanna, Spencer birdied the 14th and 17th holes, but also mixed in a bogey on 15.
"I'm very proud of Andy Spencer and the way he battled all day," Kansas coach Jamie Bermel said. "As a freshman, this is his first chance at postseason play and he was solid all around."
Daniel Sutton shot 75, Daniel Hudson 77 and Charlie Hillier 79. Hillier was 7-over after carding a quadruple bogey on No. 7.
"We are not that far out of position, but we need to get off to a fast start Tuesday to post a good round," Kansas coach Jamie Bermel said.