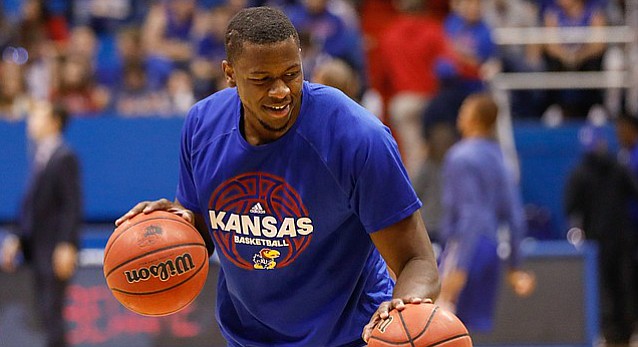 Kansas forward Dwight Coleby's walk down Campanile Hill on Sunday during KU's graduation festivities made his status as a college graduate official.
And that makes his immediate future a little more interesting.
Kansas coach Bill Self told the Journal-World on Sunday that Coleby was at least considering leaving KU and that a final decision should come in the next few days.
"Dwight graduated," Self said. "So, naturally, he has the opportunity to come back or he could elect to be a graduate transfer and be eligible immediately somewhere else. Dwight and I have had numerous talks. We love him and, of course, would welcome him back."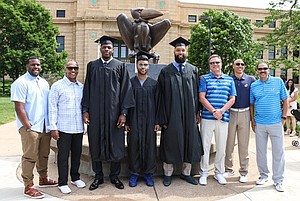 With the addition of William & Mary grad transfer Jack Whitman, the Jayhawks, with Coleby, would have five players competing for minutes in the front court during the 2017-18 season — Whitman, Coleby, Mitch Lightfoot, Udoka Azubuike and Billy Preston.
Given that Coleby averaged just 5.6 minutes per game last season, it certainly seems possible that his minutes would be limited again next season, which, according to Self, is what inspired the former Ole Miss transfer to consider his options in the first place.
"He's trying to decide right now if the role that he would have here would be one which would give him the best opportunity of playing professionally overseas, more than likely," Self said. "He hasn't let me know what he wants to do yet but we've had open dialogue. He's been great and I'm sure a decision will come soon on what direction he wants to go."
Coleby and Frank Mason III, along with former Jayhawk Drew Gooden and a handful of KU basketball managers, all enjoyed graduation festivities throughout Sunday, which Self said made for a busy and fun-filled day. Part of the reason for the craziness of Sunday was the fact that it also was Mother's Day and Self's parents came to town to celebrate.
"I had 14 family members in myself," Self said. "And I took 'em all to Garth (Brooks at Sprint Center in Kansas City, Mo.) (Saturday) night."
Self, who has a long standing friendship with Brooks said the concert was amazing and that the country music legend played until midnight.
"He's a stud," Self said.
Svi update
Self said he spent a little time with junior guard Svi Mykhailiuk on Sunday and got a good update on the status of the injured ankle that kept him out of the final few days of last week's NBA combine in Chicago.
"I just saw him," Self told the Journal-World on Sunday afternoon. "His ankle seems to be doing a lot better, he's walking without a limp, he's hopeful that he can get some rehab in and maybe still do two or three workouts in before the deadline."
Gooden geeked about graduating
Former KU forward Drew Gooden, who led the Jayhawks to the 2002 Final Four before leaving for the NBA after his junior season, returned to Lawrence over the weekend to walk down the Hill after finally completing his final college class.
Gooden, who enjoyed a 14-year NBA career that netted more than $60 million dollars said the plan was always to return to KU to participate in graduation ceremonies after completing the requirements for his degree.
"It was unfinished business," said Gooden, the former Consensus All-America First Team selection and the 2002 NABC National Player of the Year. "Graduating, there was a big gap. I joke about it. I was a 15-year senior. It was one hell of a senior year. I got to enjoy it a bit, playing at the next level at the NBA and having that experience. Being about to come back and get that diploma and having that fulfillment, it was something that was missing for quite some time, but now it's completed."