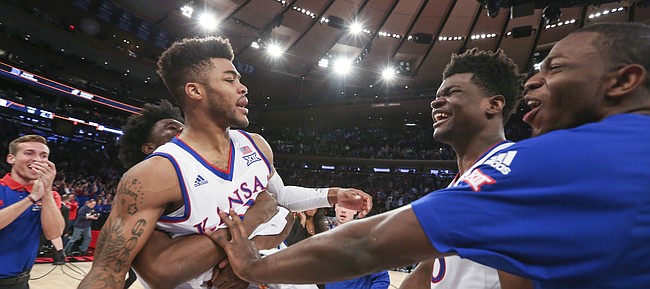 Most days, members of the Kansas men's basketball team live at least a portion of their lives in a bubble, major celebrities in a modest town, known by nearly everyone everywhere they go, often unable to do even the most basic tasks without drawing attention.
But there are some days when, even Kansas basketball players, wildly famous or otherwise, are able to mix in a little more than normal and can enjoy walking among the masses with their insane basketball skills mattering very little.
Today is one of those days and, for all-world guard Frank Mason III and reserve forward Dwight Coleby, it will forever be known as graduation day.
"Yeah, I think it is nice," said KU coach Bill Self of his players' ability to blend in with the rest of the student body on the biggest single day of the academic calendar. "It's a little strange being on Mother's Day this year, obviously, but it's great. Winning and losing and all that stuff's important, but in the big scheme of things, you know, you're coming here for dual reasons. You don't come here just to play ball, and our guys have had such a good track record of taking care of their business in the classroom, as well. So I'm real proud of those guys."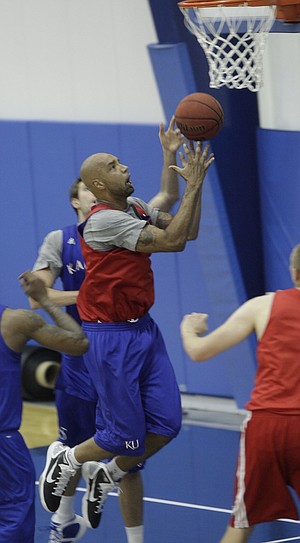 Mason's story has been well documented by now and will be told in Lawrence for the rest of time. Once a sub-par high school student who cared little and tried even less, Mason's now-famous flunking of a government class at Petersburg High in his home state of Virginia forced the guard to head to prep school and turned a road aimed at Towson into one that led him onto the Top 10 scoring list at Kansas and to collect enough national player of the year hardware to need another room in his house to store it.
"I'm so proud of him for all his accomplishments," Self recently told the Journal-World. "But just as much for how he's matured. It just goes to show you that when you have good resources and good people around you and you try real hard good things can happen. We're all very proud of him."
Those who followed his career — and, in particular, his stellar senior season — know that Mason's intense work ethic was one of the biggest factors in him turning in one of the best single seasons in Kansas history. But that work ethic, over the past four years, fall, spring and summer, also played an important role in Mason's academics.
"He's not only graduating," Self said with profound pride dancing off of his tongue. "But he only needed six hours this past semester to knock it out."
Self said eight members of Mason's family made the 16-hour, 1,100-mile drive from Virginia to celebrate and experience the big day with Mason and a handful of Mason's teammates and the Kansas coaching staff also will be around to show their support and appreciation one final time.
Mason and Coleby will not be the only new graduates walking down Campanile Hill with Kansas basketball ties. Former Jayhawk and 14-year NBA veteran Drew Gooden, who left Kansas after his junior season in 2002 to become a lottery pick, completed his final credits for graduation this year and is in town to mark the moment the way all KU grads do.
Self, who was coaching at Illinois while Gooden was starring at Kansas, said he had some interaction with Gooden in recent months about his plans to graduate and sounded nearly as happy for Gooden as he was for Coleby and Mason.
"Scooter (Academic adviser Scott Ward) played a much bigger role than anybody has in that," Self said. "But just the fact of the matter that 15 years after the fact, it meant enough to him to come back and get his degree speaks volumes about his character and about what KU means to these guys. It certainly will be a great example for our players in the future."