Kansas junior Sharon Lokedi won her second Big 12 10,000-meter title Friday night and freshman Gleb Dudarev set a school record in the hammer throw to win that event in the first day of the Big 12 track and field championships at Rock Chalk Park.
One-third of the way into the meet, the Kansas men are in first place in the team standings and the women are in third.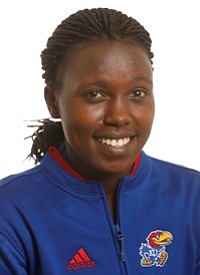 Lokedi's 33:43.28 time in the 10,000 meters would have been good enough to win the conference title in nine of the past 10 Big 12 meets.
Lokedi will try to add a title in the 5,000 meters Sunday night.
Dudarev entered the meet as this season's NCAA leader in the hammer throw and with a throw of 243-5 (74.2 meters) added nearly five feet to his school record.
Kansas has won the Big 12 hammer throw eight times in the 21-year history of the meet.