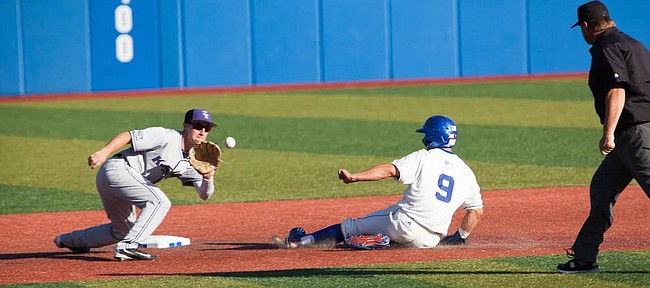 Tie ballgame, bottom of the eighth inning at Hoglund Ballpark in the Sunflower Showdown. Two balls, two strikes, two outs, two men on base, too much work left to be done to convince the NCAA baseball tournament selection committee to grant an at-large bid to Kansas for the Jayhawks to let this opportunity slip away.
Big, big moment.
Kansas State right-handed reliever Ward Price on the mound. Leadoff man Rudy Karre at the plate. Crack. Karre launched a sinking line drive to right-center. It stayed in the air for a brief eternity. Wildcats center fielder Cameron Thompson made a nice break on the ball and laid out to try to make what would have been a spectacular catch. It got past him for a double and pinch runner Blake Shinkle scored the go-ahead run from second. A dominant KU bullpen made it stand up in a 5-4 victory in the opener of a three-game series.
"I thought he was going to catch it," Karre said. "It was a close. Thank gosh he didn't and we were able to win."
The huge hit made junior left-handed reliever Blake Weiman (3-1) the winning pitcher on a night he wowed a big crowd by striking out six in 2-1/3 shutout innings. Weiman was inside, watching on TV, which he finds an easier way to maintain focus than sitting in the dugout, when Karre delivered his third RBI of the night.
"I went nuts," Weiman said. "I knew it was dropping."
The dramatic moment was set up when Ward issued an intentional walk to No. 9 hitter Owen Taylor, a switch-hitter, to face Karre, a right-handed hitter who earlier in the game had driven in runs with a sacrifice fly and a solo home run.
"When they intentionally walked him I was pumped," Karre said. "That just motivates me to do something."
Senior side-arm closer Stephen Villines picked up the save with a 1-2-3 ninth that featured two strikeouts, giving Kansas pitchers 14 on the night, including eight in 3-1/3 innings from the bullpen that took over for Jackson Goddard.
Villines earned his 13th save and 39th of his career, which puts him two saves shy of tying all-time Big 12 saves leader Huston Street, who closed for Texas from 2002-04.
"Our bullpen is definitely the strength of our team," Price said.
Weiman was particularly impressive Friday night, his slider dropping way below and beyond the reach of fanning bats.
"I worked on it a lot in fall ball," Weiman said. "I'm able to change speeds with it, use two different spins and four different velocities. I like to just play with it, give the hitters a different look. I feel comfortable with it. It's come a long way and it's my favorite pitch."
The hitters certainly looked as if it was their least-favorite pitch, maybe in all of the Big 12.
Weiman's command of his breaking pitches makes his well-located 91 mph fastball seem even louder.
The sharpness of his stuff and command of the strike zone have led to Weiman striking out 51 batters with just four walks in 41-1/3 innings. At this rate, it's easy to predict that whatever organization drafts him next month will give him an offer he can't refuse.
For now, he's thinking more about trying to help pitch Kansas into the NCAA tournament than about launching his professional career.
Kansas, which does not have a senior in the everyday lineup or the pitching rotation, stands in fourth place in the Big 12 with a 10-9 conference mark after being picked to finish last for the third consecutive season.
"We're rolling," Karre said. "We're rolling, man. Once we're rolling, you can't stop us. All of our guys are pumped and ready to go. We're wanting the sweep, nothing less."
First pitch is scheduled for 2 p.m. both Saturday and Sunday.