When Taylor Turski was 10, he told his father he wanted to play baseball in the Big 12.
When he was 13, he told his dad he couldn't wait to turn 18 so that he could begin the process of covering himself in tattoos.
When he was 21, nearly three full years from last having thrown a baseball, he told his father he wanted to resume his baseball career.
Hey, we all have dreams and they don't necessarily have to be like everybody else's. And just because some dreams might be as hard as catching the wind, or even harder, such as catching up with technology, doesn't mean you have to stop chasing them.
Look at Turski now. The California Dreamer is 24, covered in tattoos and pitching in the Big 12. Not only that, he's pitching pretty darn well.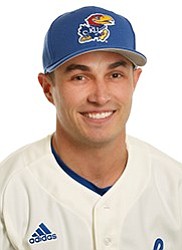 The 5-foot-9 left-hander from Temecula, Calif., will make his 12th start of the season Saturday in the middle of a three-game series at Hoglund Ballpark against Kansas State.
Turski ranks fourth in the Big 12 with an opponents' batting average of .207 and ninth with a 3.32 ERA.
He throws a mid-to-upper-80s fastball, a slider, changeup and slow curveball. As recently as three years ago, his pitches were saved for customers frustrated with burnt-out lawns, courtesy of the California drought.
Turski and a friend started an artificial turf company. His pitch: "I told them that the turf lasts 10 years and after two years, it will be paid for with the money they save in water bills."
Turski and his business partner had a falling out and he moved back in with his parents.
"My dad owned pizza parlors my whole life growing up," Turski said. "I wasn't going to sit around and do nothing all day, so I was driving around, listening to music, delivering pizzas and making tips. I'll never get tired of that pizza. I've been eating it my whole life."
It was a stop-gap job, one that lasted until friends convinced him they could land him a job in the fashion industry in San Francisco. He was going through his things in his bedroom, preparing for the move north, when his mind did a 180.
"My glove was sitting on my bed and once I saw it, I knew I couldn't do it," Turski said. "I knew once I moved up there, I would start a career, and that if I did that, I was never going to come back to baseball. Once I saw my glove, I couldn't do it."
Right then and there, he called his father, the same man whom he had told eight years earlier, "I want tattoos, I want tattoos, I'm going to be covered in tattoos."
This time, he told him he was going to go back to playing baseball.
"OK, then you know who to call," Tony Turski told him.
That would be Palomar Junior College baseball coach Buck Taylor. He told Turski he could try out for the team in the fall and see how it goes, which gave the lefty three months to ready his arm after three years of not throwing. Might seem like a long shot to some, but not to the California Dreamer.
It's not that Turski walked away from baseball because he didn't like it. He walked away from the game he loved because his body told him it was time.
Turks pitched two years of high school baseball, injured his left elbow in the summer heading into his junior year, underwent 18 months of rehabilitation and was able to pitch "about five games" as a senior. He headed to Palomar JC to play baseball, but this time his shoulder broke down before the season. He had a partially torn labrum.
"I decided I was going to join the real world after having shoulder problems," Turski said. "I didn't want to go through another surgery."
That's when he got into the turf business, then delivered pizzas, then saw the baseball glove. He made the team at Palomar, had a rough go of it in the fall and was told to expect to pitch about 10 innings out of the bullpen. Instead, he flat-out dominated in the spring, going 8-0 with a 1.03 ERA and making 20 of his 27 appearances as a starter.
As a sophomore, he had to work through a biceps injury, but still managed to limit hitters to a .170 batting average and drew the attention of college recruiters. Oklahoma recruited him, but didn't pull the trigger on a scholarship offer.
Utah, University of San Diego and others offered scholarships.
Kansas baseball coach Ritch Price was tipped off by Taylor, whom Price recommended for the job at Palomar.
Price's players call him, "Skip."
"Skip called me and as soon as I talked to Skip on the phone, I was sold," Turski said. "I don't know what it was about him, I guess maybe the way he talked to me on the phone. He called me, 'Stud,' 'Big Time,' a lot of the things about Skip that you like. I called the other schools and told them I was coming to Kansas."
Teammates, many born six years before him, call Turski, "Old Man." Given that, I figured maybe his walk-out tune is Neil Young's "Old Man." Wrong. It's "Can't Stop," by the Red Hot Chili Peppers. That's even better for the California Dreamer who just couldn't bring himself to stop playing baseball.