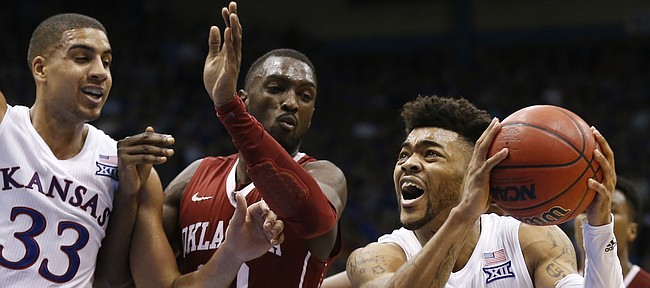 Count former Kansas big man Landen Lucas in the camp that believes reigning national player of the year Frank Mason III is well on his way to keeping his basketball mojo going.
And, no, it's not solely because Lucas and Mason were KU teammates for the past four years. More because Lucas has seen Mason deliver and hold his own against some of the brightest young stars the NBA game has to offer and Lucas is excited about seeing his buddy prove himself on the biggest stage once again.
"For him, going to the combine is important because the general perception is that, because of his height, it'll be hard for him to do the same things he did in college," Lucas recently told the Journal-World when asked about Mason competing at the NBA's pre-draft combine this week in Chicago. "But we know that isn't the case. Every day in practice, for his last four years, he's gone against NBA-type players and played in games against NBA-type players. If he can finish on JoJo (Joel Embiid) and those type of guys, that's the top of the line in the NBA."

Throughout his KU career — and particularly his stellar senior season — Mason prided himself on consistency, both on the stat sheet and between the ears.
Lucas said he expected Mason to take that same approach into the combine, with his mindset being to show NBA scouts and general managers who he is not to try to be somebody he's not.
"He's gonna go in there and put on a show," Lucas said of Mason, who, along with teammate Svi Mykhailiuk, will begin the agility drills and five-on-five portion of the combine today. "The fact that they're playing five-on-five is gonna be good for him and he's definitely gonna make the most of that. All the drills and everything are just gonna show off his athleticism and show that his height doesn't really matter."
Lucas, who is in Daytona, Fla., preparing for whatever NBA opportunities might come his way in the next few weeks, said the mere fact that Mason was invited to the 67-player combine was an important first step.
"It's a huge deal," Lucas said. "Not a ton of seniors are on the list. I was just out training with (Wisconsin senior) Nigel Hayes and he didn't even get an invite. So it's huge just that he got the invite. That means that a lot of NBA teams wanted to see him."
That, according to ESPN analyst Fran Fraschilla, was a huge part of the equation.
"His size is an outlier for the league," Fraschilla said of Mason. "But his camp is hoping that he's the next Isaiah Thomas or Tyler Ulis, a guy whose speed can be utilized in the pro game the way it's being played today."
Fraschilla, along with fellow ESPN analyst Seth Greenberg — who, two days ago, Tweeted, "Frank Mason will be a 10-year NBA player. He will be undervalued and then people will say how did that happen." — both believe that Mason will get drafted and will prove himself valuable to an NBA franchise.
"Athletically, I think they know that he can play in the NBA," Fraschilla said. "It's going to be a matter of finding a team that doesn't have a problem with a smaller guard. The biggest thing about Frank, and I think it helps him, was his consistency this year. He had very few bad games. It's not an insult to say that a guy plays in the league as a back-up for 12 years, because if he does that he's gonna make a lot of money and have a real nice career."