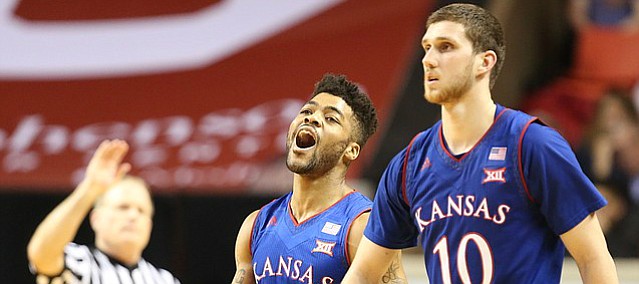 The annual NBA combine is set to begin Tuesday in Chicago, and it figures to be as interesting as any in recent memory for fans of Kansas basketball.
Think of it as recruiting all over again.
For six consecutive days, some of the top college players in the country are prodded, poked, pursued and interviewed over everything from their physical measurements and abilities on the court to character issues and overall intelligence. All of this, of course, will help determine which players are selected during the two-round draft on June 22 in Brooklyn.
Three former Jayhawks hope to be among those who hear their names called in late June, with Frank Mason III and Svi Mykhailiuk entering this week's combine as question marks and Josh Jackson projected to be a Top 3 pick.
That makes this week's combine activities and results highly anticipated by KU fans, from drills and measurements to five-on-five scrimmages later in the week.
Not only will Jayhawks everywhere be tracking the progress of Mason, the reigning national player of the year who gave his heart and soul to KU for four years and delivered a season for the ages during his final act. But they also will be tracking the status of Mykahiliuk, who is testing his stock without an agent and still trying to decide whether to stay or go.
Those two — one a college senior with nowhere to go and the other with age and leverage on his side — figure to be two of the more interesting stories throughout the 67-player combine, which runs through Sunday at the United Center.
ESPN analyst Fran Fraschilla, well versed in both the college game and international basketball, saw plenty from both players throughout the past couple of seasons and he recently took time to break down what each player should be looking to get out of this year's combine.
Fraschilla likes the odds for both former Jayhawks to find their way onto an NBA roster sooner rather than later.
"Keep in mind that 18 players in the league this year were 6 feet and under so he's already an outlier," Fraschilla said of the 5-11 Mason. "But the fact that he had such a great senior year and he showed NBA teams on nightly basis a combination of speed, strength, toughness, competitiveness and a very good skill level, bodes well for him."
Fraschilla said he thought Mason would eventually become a second-round pick who had a better than 50-50 chance of making a roster because of his willingness to lay it all on the line time after time.
"With his toughness and maturity, he's gonna bring a lot to a team on a day-to-day basis," Fraschilla said. "Whether it's at training camp, practices, workouts, he's gonna have that type of impact on a team even if it is as a third point guard. He's always had to prove himself, and this will be another opportunity to do that. He's the prototype back-up NBA point guard at the moment."
Mykhailiuk, meanwhile, is a player whose standing is much less certain.
Although his age — he'll turn 20 in early June — his size — 6-foot-7 — and his smooth shooting stroke are all big time pluses in the eyes of NBA talent evaluators, his status as a role player throughout most of his college career has left a few questions unanswered.
"He does one thing exceptionally well," Fraschilla said. "When he's wide open, feet set, he can knock down shots. And his role, eventually, is going to be as a strong, athletic wing that can make open shots. In a league that values shooting, that's not the worst thing in the world."
By not hiring an agent, Mykhailiuk has left his options open, which Fraschilla said was a smart move. A strong showing this week in Chicago could make the decision for him. But if he does not fare well, he just as easily could return to Kansas. Because he is still a young player, Fraschilla said he liked the position Mykhailiuk was sitting in and said he made a smart move by accepting the invitation to the combine.
"Could he come back for his senior season and play himself into the first round next year? You bet," Fraschilla said of Mykhailiuk. "But he's really in a win-win situation. On the one hand, he's coming back to Kansas for his senior year and will be a bigger part of the offense than ever before. On the other hand, if he plays well in the combine, he has a chance to impress teams, likely get drafted in the second round and make a roster."
And then there's Jackson. The one-and-done All-American who put up some of the best freshman numbers in the history of Kansas basketball.
Recent reports have indicated that Jackson, as a top prospect, will not participate in drills and scrimmages at this week's combine. But, according to Fraschilla, that does not mean Jackson will not get something of value from the experience.
"The only question mark with Josh is going to be his interviews," Fraschilla said. "And part of it is the incidents off the court this year. Anybody who knows Josh knows he's gonna be bright, articulate, open, honest and people are gonna come away impressed with him.... At the end of the day, you're gonna say, 'I like this kid and I love his toughness.' His interviews are going to help him."