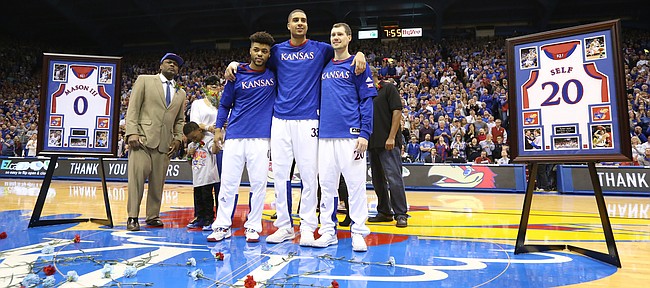 Outgoing Kansas basketball seniors Landen Lucas, Frank Mason III and Tyler Self capped their summer Barnstorming tour Saturday night at Blue Valley Northwest High with the final edition of a series of scrimmages designed to deliver as many smiles and laughs as awe-inspiring basketball moments.
Friday night, the former Jayhawks were in Wichita to team with Conner Teahan against a squad coached by former KU star and Wichita native Perry Ellis.
Saturday, it was closer to home in Overland Park, but the vibe and results were pretty much the same.
During a Saturday afternoon meet-and-greet for his new foundation that will strive to open athletic doors for young people in Lawrence who may not otherwise be able to afford to play sports, Lucas summed up the Barnstorming games with a quick story.
"Well, I was out there shooting 3's if that tells you how much of a game it was," Lucas joked. "I made my first 3 and was feeling good but then fell off from there. I got cocky."
Lucas and Mason both said the chance to mingle with fans who supported them so much during the past four or five years of their lives was by far the best part of the Barnstorming tour that included stops in Lebo, Wichita and Overland Park.
"Just going out there, just enjoying it, having fun and making sure that we give the fans a good time and really get a chance to interact with them a little bit more," Lucas said. "The signing line is pretty nice because we get a chance to say hello to each one real quick and then playing against some of the local guys and the high school players, that's always fun."
Added Mason, in an interview with Wichita television station KSN: "It's very special. It's something I'll always remember. It's just great to be here with the fans, getting another chance to be around 'em and laugh, smile and just have a good time with my brothers Tyler and Landen."
Lawson offer
With brothers, Dedric and K.J., already on board at Kansas after transferring from Memphis, there has been some speculation during the past couple of weeks about whether the two younger Lawson brothers, Chandler and Jonathan, would one day follow them to Lawrence.
While their high school graduations (2019 and 2021) remain a couple of years away, we now know joining the Jayhawks will be an option for at least one of them.
Chandler Lawson, currently the No. 34-ranked player in the Class of 2019 per Rivals.com, revealed this week on Twitter that he had received an official scholarship offer from KU. And he sounded more than a little excited about it.
"Blessed to receive an offer from KU hoops," the 6-foot-8, 200-pound, 4-star wing forward wrote. "Rock Chalk Jayhawks. Family."
There remains a long way to go in the recruitment of Lawson, but, given that Kansas already has one commitment from the Class of 2019 — 4-star point guard Markese Jacobs, No. 71 per Rivals — it's would not be altogether unheard of for Chandler Lawson to make a decision well before his senior year.
Combine numbers
The NBA on Friday released the official list of combine invitees and both Frank Mason III and Svi Mykhailiuk were among the 67 players invited to the event.
Former KU freshman Josh Jackson also was invited, but he, along with several other projected lottery picks, reportedly has decided to skip the combine.
The 67-player total, which features very few college seniors, is down a few from recent years.
This year's combine is slated for Tuesday-Sunday next week in Chicago.