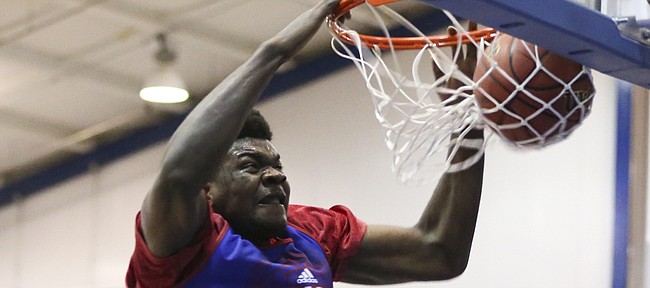 By the time Kansas basketball players start summer school in June, the roster will be down to 13 scholarship players. At the moment, it stands at 14 and exactly half originally signed with Kansas. The rest signed with other Div. I universities and transferred to KU.
That makes it easy to split the rosters into two teams: The Originals vs. the Transfers. What's not so easy is figuring out which team would win a scrimmage.
The Originals' starting five: Devonté Graham at the point, Lagerald Vick and Sviatoslav Mykhailiuk on the wings, Billy Preston at the four and Udoka Azubuike at center. Marcus Garrett subs for the perimeter players, Mitch Lightfoot for the big men.
The Transfers' starting five: Charlie Moore at the point, Malik Newman and Sam Cunliffe on the wings, Dedric Lawson at the four and Jack "Stache" Whitman in the post. K.J. Lawson and Dwight Coleby supply depth.
Matchups:
Point guard: Graham vs. Moore. Graham has three years of experience, two as a full-time starter at a national powerhouse. A career .412 3-point shooter, Graham knows how to maintain the turbo-charged pace at which Kansas likes to play. He also knows how to shut down shooters, but could do a better job at keeping penetrators out of the lane. Moore, a 5-foot-11 Chicago native, averaged 12.2 points as a freshman for a talented California team and would know how to get to the lane against Graham. With time, Moore will make better decisions once he gets to the lane than he did as a freshman, when he averaged 3.5 assists and 2.9 turnovers. He shot just .388 from the field and had a .352 3-point accuracy rate, not horrible numbers for a freshman guard. Edge: Originals.
Shooting guard: Vick vs. Newman. Quick on quick. Two terrific athletes blessed with soft shooting touches. Vick is taller and longer, Newman stronger and more polished. Vick flies higher, Newman feels the game better, has a better handle and can drive to the hoop for buckets more consistently than can Vick. Edge: Transfers.
Small forward: Svi vs. Cunliffe. Svi has played 97 games for Kansas. Cunliffe, who is two-and-half months older, has played 10 college basketball games, all for Arizona State. Cunliffe jumps higher, dunks more loudly and has a long-range shot that rivals that of Svi. But you can't make up for 87 games of college-basketball experience for an elite program. Edge: Originals.
Power forward: Preston vs. Dedric Lawson. Preston is the nation's 10th-ranked recruit, per Rivals. Lawson averaged 19.2 points and 9.9 rebounds as a sophomore for Memphis. The players probably have more similarities than differences, but Lawson has proven far more and with two years of starting experience already has learned that college basketball is played at a different level of intensity than anything Preston has seen to this point in his career. Edge: Transfers.
Center: Azubuike vs. Whitman. Azubuike's footwork with the ball in the post isn't as nifty, but his physical advantages would overpower the William & Mary transfer. This is the biggest mismatch, one the Originals would try to exploit by forcing the ball into the post. Edge: Originals.
Bench: Garrett and Lightfoot vs. K.J. Lawson and Coleby. Lawson played 42 games in two seasons for Memphis and averaged 11.5 points and 7.0 rebounds. Garrett will need to show he's ready to shine defensively immediately to earn quick playing time. Edge: Transfers.
Overall: So that's three edges to the Originals and three to the Transfers. The Originals have a more experienced point guard and a much more powerful center and have spent more time playing together than the Transfers, who would put up a good fight in what surely would make for an entertaining scrimmage. Edge: Originals.