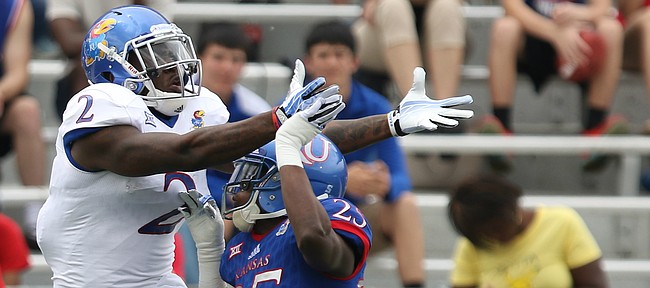 The 2017 Kansas football season is still four months away. And no one working inside Anderson Family Football Complex is happier about that length of time than cornerbacks coach Kenny Perry.
Charged with training the least experienced unit in the program this spring, saying the co-defensive coordinator had a lot to tackle, Perry will tell you, is an understatement.
KU's corners will be young this coming fall, but the assistant who joined the program two offseasons ago still thinks the defense is in a better situation than when Perry decided to join David Beaty's staff.
In theory, the quality of the Kansas personnel up front should make transitioning to the FBS level at least a little less complicated for the cornerbacks lacking seasoning — only senior Derrick Neal, more of a nickelback, owns a résumé that includes significant Big 12 action. Eight of the 10 corners expected to appear on the fall roster are underclassmen.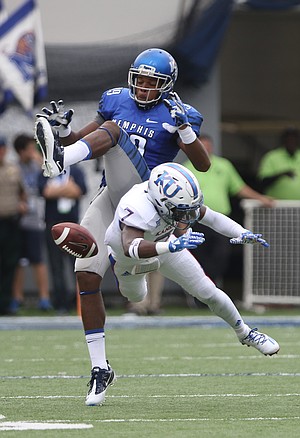 "Hasan Defense, he's definitely a kid we're going to expect something from," Perry said of one of KU's most significant signees this offseason, "just because he's more mature than those other guys."
A 5-foot-11, 180-pound cornerback, Defense played as a true freshman in 2016 at Kilgore College (Texas), where he made 57 tackles and five interceptions.
Joining him in the sophomore class are Kyle Mayberry, Julian Chandler, DeAnte Ford and Justin Williams, all of whom Perry still considers first-year players, because, well, their sophomore years won't begin until the fall semester.
"They're still freshman kids and they still make freshman mistakes," Perry said.
A couple of other spring freshmen at cornerback will be redshirt freshmen in the fall: Shola Ayinde and Ian Peterson. True freshman Robert Topps III is expected to join the program in the summer.
The only junior in the group is Shakial Taylor, who transferred to KU from Mesa Community College (Ariz.), after beginning his college career at South Dakota State.
"I can't wait to see what Shakial Taylor does," Perry said. "Man, he's a kid I'm excited about this summer."
The cornerbacks coach wished he already had a better feel for just how much Taylor can help Kansas on Saturdays this fall. But a shoulder injury kept the 6-0, 175-pound defensive back from fully participating this spring. Taylor only was made available for certain portions of practices, usually involving footwork, change of direction or individual work.
"He's just so mature," Perry said of Taylor. "He's played college football. I think he's going to be a welcomed addition."
During the spring at least, sophomores Defense, Chandler and Mayberry showed up most often out on the corners, trying to keep wide receivers in check.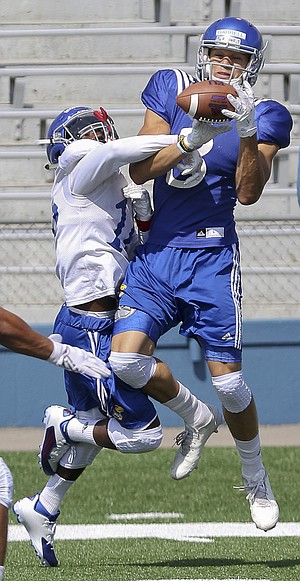 Perry said he won't know for certain what he has in the group, as a whole, until the fall, but feels "really good" about the spring as a starting point.
"But obviously the biggest thing where college football has changed so much is the summer is so big now. Kids used to go home. Now they might go home for two weeks and they come right back and it's right back into another extended offseason program of running, lifting," he said.
Once spring football reached its completion, Perry presented each cornerback with the mistakes that showed up on video over the course of 15 practices, so that each would know what needs to be fixed. As the KU assistant put it, if those issues aren't addressed in the spring and summer, opponents start scheming to beat individual corners in the fall, because their shortcomings show up on game footage.
That's why KU's untested cornerbacks, Perry added, have to take full advantage of what's left of the offseason.
"We're not playing next week," he said. "We've got (three) more months and then we start practicing for a month. Those kids are going to change a bunch. I just hope that they make that first step, because I think the programs that do that — they take advantage of workouts in the summer with kids — they win. And that's what we've tried to focus on with our guys. It's not time to go to the lake and the beach. It's a time to work. You're going to have that time, but we want you to understand you're getting ready to play next season. And this is really big. It's bigger, more so, than coming back in January."
KU'S PROJECTED CORNERS FOR 2017
Freshmen
Shola Ayinde, 6-0, 175 (redshirt)
Ian Peterson, 5-11, 185 (redshirt)
Robert Topps III, 6-2, 175 (not on campus yet)
Sophomores
Hasan Defense, 5-11, 180
Kyle Mayberry, 5-10, 175
Julian Chandler, 6-0, 185
DeAnte Ford, 5-10, 175
Justin Williams, 5-11, 180
Juniors
Shakial Taylor, 6-0, 175
Seniors
Derrick Neal, 5-11, 180