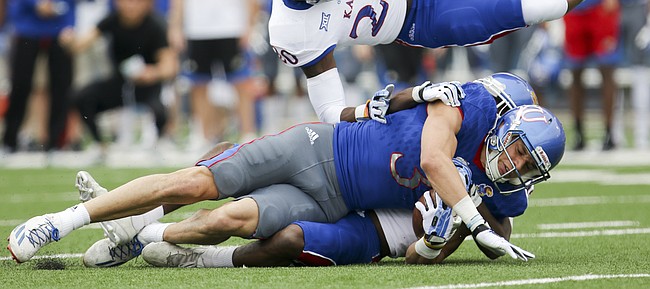 Counting backwards from 2016, this is where the Kansas football team's offense finished the past four seasons in scoring among FBS schools, of which there now are 128: ninth-worst, sixth-worst, 11th-worst, fifth-worst.
So 2014, when KU finished 118th in the nation, was the best recent performance. So many three-and-outs in a conference that has so few of those has played a big part in a steady decline in attendance at Memorial Stadium.
In the seven seasons since coach Mark Mangino, quarterback Todd Reesing and offensive coordinator Ed Warinner departed, Kansas has had four different head coaches (Turner Gill, Charlie Weis, interim Clint Bowen, David Beaty), 10 different starting quarterbacks (Kale Pick, Jordan Webb, Quinn Mecham, Dayne Crist, Michael Cummings, Jake Heaps, Montell Cozart, Deondre Ford, Ryan Willis, Carter Stanley) and six different offensive coordinators (Chuck Long, Charlie Weis, John Reagan, Eric Kiesau, Rob Likens, Beaty).
Peyton Bender, provided he beats out Stanley, will become the 11th post-Reesing starting QB, Doug Meacham the seventh post-Warinner OC.
Through these lean years, each change was trumpeted by coaches and players as an improvement because everyone wanted to believe that and nobody would benefit from saying otherwise.
Given that, I understand the skepticism about the offense practiced by a fan base in a show-me state of mind. Nothing about the final scoreboard in the spring game, which showed 14-7, fueled optimism.
Still, it pays to remember a few things about spring games that differs from real ones: There was a running clock, which allowed for just 84 plays from scrimmage; play-calling is as vanilla as it gets because nobody wants future opponents culling anything useful from the game film; staying vanilla enhances the edge enjoyed by the defense because it knows what plays are coming based on the formations; it was only the 13th practice Meacham had spent with the offense.
A half-dozen reasons to believe that KU's offense will finish ranked in the top 90 in the nation in scoring for the first time since 2009, when it ranked 42nd:
1 - Bender: He showed accuracy (11 for 15, two touchdowns, no interceptions) and a swagger in solid spring-game performance. Quick release and quick decisions make him a good fit for the Air Raid.
2 - Meacham: He comes to Kansas with a ton of Big 12 experience, having done impressive work at Oklahoma State and TCU.
3 - Daylon Charlot: Drew mixed reviews during much of the spring, but looked very much like an Alabama-caliber receiver during the spring game. He went up to snatch a reception in traffic and managed to get a foot in bounds, the play of the game, and made another tougher-than-routine catch in the end zone.
4 - New running backs: Octavius Matthews, Bender's junior college teammate, and incoming freshman Dominic Williams bring exciting possibilities, joining returners Taylor Martin and Khalil Herbert. They all can turn the corner for big gains and catch passes out of the backfield. Of course, they won't come close to reaching their ceilings unless the blocks are there.
5 - Chase Harrell: Outside receivers Steven Sims and Charlot give the KU quarterbacks two deep threats, but they'll need plenty of relief to rest from all the vertical routes they'll be running. Enter Harrell, the only receiver on the roster who not only is the quarterbacks' biggest target at 6-foot-4, 215 pounds, but one of the fastest. He had an impressive spring game and his confidence is emerging.
6 - Maturing offensive line: A major cause of the prolonged slump of the Kansas offense, the offensive line remains the biggest question mark, the most obvious potential hurdle to significant progress. But it's difficult to picture anything but improvement from a year ago, because of the extra year in the weight room, the addition of Alabama transfer Charles Baldwin at right tackle, and the potential for a big leap from sophomore left tackle Hakeem Adeniji, who is so much bigger and stronger than last year, when he started as a true freshman.
The Jayhawks averaged 20.3 points per game last season, 120th in the nation, last autumn. Predicted 2017 finish: 78th, with 27.3 points per game.