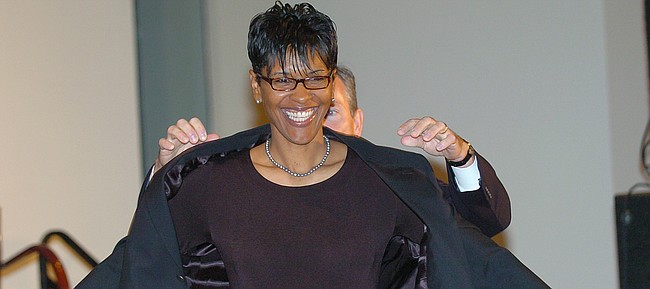 Danny Manning is laying waste to the widely held belief that great basketball players don't make good coaches. In Manning's second year as a head coach, Tulsa ended a 10-year NCAA tournament drought. In his third season at Wake Forest, the school ended a six-year tourney drought.
Lynette Woodard, the leading scorer in Div. I college basketball history, is well aware of Manning's success and is not the least bit surprised by it.
Woodard read John Wooden's books on coaching and knows that long before he led UCLA to 10 NCAA tournament titles, he was a three-time consensus All-American at Purdue.
Woodard is the latest superstar player who will have the chance to show it can be done. Hired last August by Winthrop University as an assistant to head coach Kevin Cook, once a fellow assistant to Marian Washington at Kansas, Woodard finished this past season as interim head coach. She was promoted early this week to head coach and discussed the move Friday in a telephone conversation from Dallas, where she is attending the women's Final Four.
"I'm of a different school," Woodard said of the theory debunked by Wooden, Pat Summitt, Kim Mulkey, Larry Brown, Lenny Wilkens and others. "But that's OK. Time will tell."
Woodard, who scored 3,649 points in a Kansas uniform, said she doesn't call attention to her playing feats as an Olympian, the first female Harlem Globetrotter, etc., with her players.
"Nah, not really," Woodard said. "They can do the research. There's plenty out there. It's not about my glory, it's about their story."
And at the moment, it's about assembling a coaching staff and upgrading recruiting at a school coming off a 2-29 season.
Once the cyclone facing any new coach subsides, Woodard said she plans to make the 100-mile drive from Rock Hill, S.C. to Winston-Salem, N.C., to visit KU's second-leading scorer.
"Danny has the task of turning the Wake Forest program around and he has been very successful with it," she said. "I want to find out how he did it."
Of her college coach, Washington, Woodard said: "She groomed me. She would certainly be my No. 1 coaching influence. I've been fortunate to have a lot of great coaches."
Woodard played in the Olympics for Billie Moore, Sue Gunter and Summitt, all inductees to the Naismith Basketball Hall of Fame, where Woodard is enshrined.
She said she will return to Kansas often on recruiting trips and added that she plans to call the KU athletic department to try to schedule a game in Allen Fieldhouse.
More like this story on KUsports.com