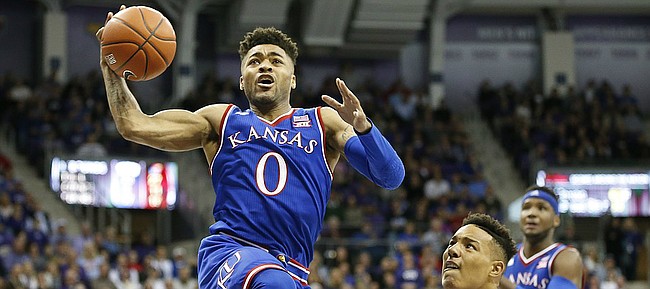 Make it two days in a row of making history for Kansas senior Frank Mason III, who on Friday was named the winner of this year's Oscar Robertson Trophy given out annually to college basketball's player of the year by the U.S. Basketball Writers Association.
One day after becoming the first KU player in history to collect The Associated Press player of the year trophy, Mason becomes the first Jayhawk to win the Oscar Robertson Trophy, which was first awarded after the 1958-59 season.
"To be the first player from Kansas to win the Oscar Robertson Trophy is amazing as there have been so many great players at KU," Mason said Friday in Phoenix. "There is no way I could have won this without great coaches, like coach (Bill) Self, the rest of the staff and great teammates. We accomplished a lot this season and this award would not have been won without my teammates and coaches."
According to a press release, Mason won the player of the year balloting in eight of the USBWA's nine districts and is the second straight USBWA National Player of the Year from the Big 12 Conference, joining Oklahoma's Biddy Hield last season.
The Oscar Robertson Trophy is voted on by the entire membership of the association, which consists of more than 900 journalists. It is the nation's oldest award and the only one named after a former player. The legendary Oscar Robertson was the USBWA's first player of the year in 1959 and was the consensus national player of the year as a sophomore in 1958, the year before USBWA started giving its player of the year award. The USBWA renamed the award the Oscar Robertson Trophy in 1998.
Mason, who will graduate this spring with a degree in liberal arts and sciences, finished his career sixth on the Kansas all-time scoring list with 1,885 points, sixth in assists with 576 and eighth in 3-point field goals with 185. No Jayhawk player in KU history ranked sixth or higher in both points and assists.
"Frank has had a terrific four years at Kansas," Self said Friday. "He has become better and matured each year, culminating with the best season that I've ever had a player have that I've coached. He was the leader, the personality and the most consistent performer on a very good team, averaging close to 21 points and more than five assists per game. More importantly, Frank basically led us through every tough moment, which is what separates him from so many and makes him worthy of this award."
Mason's 2016-17 Season Summary
• Became the only player in KU and Big 12 history to average more than 20 points and five assists in the same season.
• Showed a knack for taking over games, which directed Kansas to a 31-5 record and its 13th consecutive Big 12 regular-season title with a 16-2 league mark.
• Led the Big 12 in scoring overall (20.9 ppg) and during conference play (21.0 ppg).
• Averaged 5.2 assists per game.
• Two-time national player of the week.
• Three-time Big 12 Player of the Week.
• Posted 23 games of 20 or more points, including his final seven contests and 10 of KU's last 11 outings.
• KU's leading scorer in 26 games.
• In the Big 12, Mason ranked first in 3-point field goal percentage (47.1), fourth in assists (5.2), fifth in 3-pointers made per game (2.3), fifth in assist-to-turnover ratio (2.2), seventh in free throw percentage (79.4), ninth in field goal percentage (49.0) and 14th in steals (1.3).
• Made 50.0 percent (43-for-86) from 3-point range and 2.4 treys per game in Big 12 play.
• Shot 103-for-119 (86.6 percent) from the free throw line in his final 15 games, making 6.9 charity shots per contest in that span.
• Concluded his career No. 6 on the Kansas scoring list (1,885 points), No. 6 in assists (576), No. 8 in 3-point field goals (185), No. 13 in steals (165) and tied for third in consecutive starts (110). No Jayhawk in KU history ranked sixth or higher in both points and assists.
National Player of the Year Count
Frank Mason III's National Player of the Year honors and the remaining awards he is a candidate for.
• Associated Press Player of the Year
• Sporting News Player of the Year
• CBS Sports Player of the Year
• USA TODAY Player of the Year
• Bleacher Report Player of the Year
• NBC Sports Player of the Year
• USBWA Oscar Robertson Trophy
• NABC Player of the Year - Winner revealed April 2
• Naismith Trophy - Winner revealed April 2
• Bob Cousy Award (Point Guard of the Year) - Winner revealed April 7
• Wooden Award - Winner revealed April 7