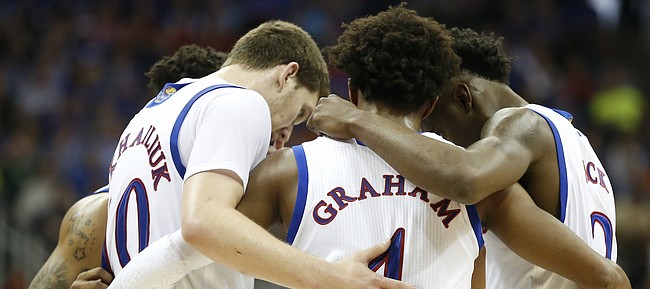 Although they won't fly to Hawaii or the Bahamas for any competitions next season, the Kansas men's basketball team still will get an opportunity to play one game in the shadows of palm trees and the beach.
Kansas and Syracuse will square off on Dec. 2 in Miami, in the showcase game of the Naismith Memorial Basketball Hall of Fame's Hoophall Miami Invitational at American Airlines Arena.
The official announcement of that game highlighted a handful of non-conference contests scheduled for next season.

"We are looking forward to playing in the Hoophall Invitational and taking our team to Miami next season," KU coach Bill Self said in a news release. "Year-in and year-out, Syracuse has been one of the best programs in the nation. Playing Syracuse in an NBA arena will be great exposure for our program."
ESPN has partnered to televise the event, which also will include a game between Miami, Fla., and Princeton, with game times and tune-in information to be released at later date.
The game between Syracuse and Kansas will be the culmination of a multi-team event in which both teams will each host Oakland, Toledo and Texas Southern on their campuses. The Jayhawks will host Texas Southern on Nov. 21, Oakland on Nov. 24 and Toledo on Nov. 28 inside Allen Fieldhouse.
The Toledo game will mark a homecoming of former Lawrence High standout Justin Roberts, the son of Kansas assistant coach Norm Roberts.
Tickets are now available for the 2017 Hoophall Miami Invitational via Ticketmaster.com or by contacting the American Airlines Arena box office.