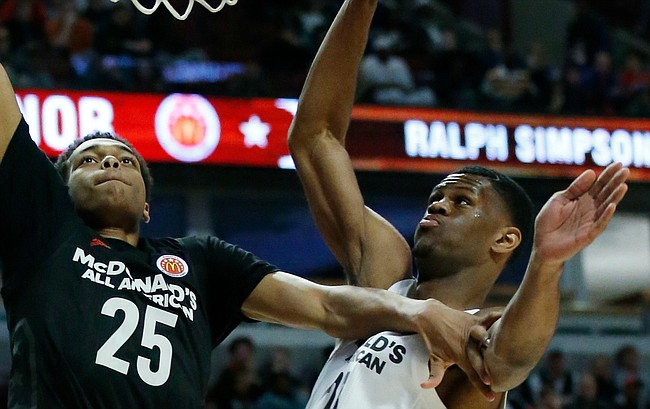 Chicago — A loud contingent of Kansas fans were in the United Center on Wednesday night for the 40th annual McDonald's All-America game, cheering on future Jayhawk forward Billy Preston. The highly touted prospect did not disappoint them.
Preston, playing for the West team, scored his team's first basket of the game and showed impressive all-around skills. He finished with 10 points and three rebounds, helping the West earn the 109-107 victory.
"I think I played well, 10 solid points," Preston said after the game. "I nailed some jumpers, not anything forced, and I let the game come to me. I had a good mindset about it and it paid off."
The forward is a Southern California native, though he played his senior year of high school at Oak Hill Academy in Mouth of Wilson, Va. He prides himself on his all-around game, and that showed on Wednesday. Preston hit both of his three-point attempts, attacked the basket well and guarded a wide range of positions on the defensive end.
He also did work in Chicago on behalf of Bill Self and the Jayhawks coaching staff. One of Kansas's top targets in the Class of 2017 is point guard Trevon Duval, the top-ranked player at his position and third-best player overall according to Scout.com rankings. Duval played for the East team this week, and Preston made sure to do his best to convince the guard to join him in Lawrence this fall.
"I've definitely been talking to him," Preston said. "(The conversations) have been neutral, I'm just doing my best to keep recruiting him.
Duval, a Delaware-native who played his high school ball at IMG Academy in Bradenton, Florida, had eight points and three assists in the McDonald's game. Along with Kansas, he is considering Arizona, Baylor, Duke and Seton Hall.
The game was a back-and-forth affair, with both teams holding 10-point lead over the course of the action. The West pulled ahead in the second half, thanks to the MVP performance of Michael Porter, Jr. The consensus No. 1 player in the country, who recently switched his college commitment from Washington to Missouri, had 17 points and eight rebounds.
The East rallied back, behind a pair of uncommitted prospects: center Mo Bamba (17 points, four blocks) and small forward Kevin Knox (15 points, three rebounds). They had a chance to tie at the end of regulation, but West center Brandon McCoy had a pair of blocks to seal the victory.
Preston said the competitive game in an NBA arena was a great prep for what he'll encounter when he suits up for the Jayhawks. And it helped to have some fans on his side.
"It was competitive, playing with and against the top players in the country, so it was a great experience for me," Preston said. "Glad I had some support in the crowd, I didn't feel alone out there."