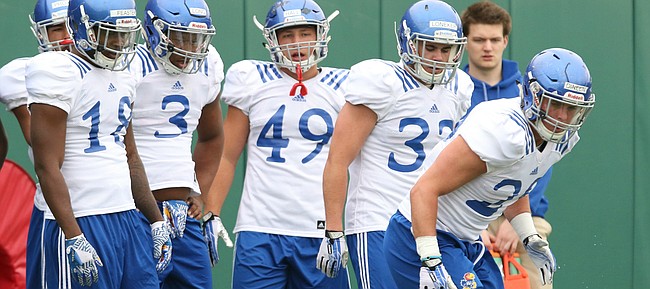 David Beaty and his assistants hadn't sent their Kansas football players through drills and one-on-one situations or hit them with various install instructions in nearly two weeks, but the head coach said his Jayhawks didn't look behind schedule when the team reconvened for practice Tuesday, following spring break.
It marked the fourth practice of the semester but the first in 12 days, due to the university's recess from the class schedule. Beaty left pleased with the carryover he saw and felt confident players came back to spring football understanding their assignments.
KU, the head coach shared, breaks up its install into three-practice increments, so rehearsal No. 4 brought the Jayhawks back to reviewing what they first went over on Day 1. It's a pattern they'll repeat five times in total by the end of their spring schedule.
Beaty said the Jayhawks tackled for roughly half the practice and though he thought they opened the session with positive energy and effort, he wants them to get better at maintaining that level throughout each run-through.
Rest might have helped Jayhawks
Although KU hadn't practiced since March 16, Beaty wasn't necessarily complaining.
"That's one of those deals where sometimes it helps you, because you're able to get some guys back that got banged up before we took the spring break," the third-year KU coach said, "because we had a couple guys that probably wouldn't have been able to go for a couple practices and we got them all back, which was good."
Thus far, Beaty thinks the Jayhawks have fared well in avoiding injuries, though he revealed starting center Mesa Ribordy hurt one of his knees a little more than two weeks ago.
"He'll be back," the coach added of Ribordy, a sophomore offensive lineman from Louisburg, "and the 12 days are going to help us with him."
Senior receiver Bobby Hartzog Jr., too, suffered a couple of minor setbacks, according to the coach. Hartzog has since recovered from a hip injury, Beaty said, but hurt his wrist Tuesday.
"I think the X-rays were negative," the coach said, "so I think he's going to be OK."
Why no pads?
Beaty attributed Ribordy's knee setback in particular to the rules in place for the first two practices: players wear helmets, but no pads.
Coaches wanted the Jayhawks to practice physically, within reason, that first week, but it's difficult to pull off. Beaty said he doesn't understand the NCAA rule.
"And we're just running into each other. You've got to do it, but it doesn't make sense to me," he said. "Year after year, you're going to have somebody get hurt, because to me it's not safe. But what do I know?"
Noteworthy showings
As Beaty likes to do, he rattled off the names of a number of players who he thought stood out at the most recent training session. The head coach began by praising junior running back Deron Thompson, who transferred to Kansas from Colorado State.
"He's got some go to him," Beaty said of Thompson. "He's got some juice. He can run."
After listing off the likes of returning contributors Khalil Herbert, Ben Johnson, Mike Lee, Daniel Wise, Dorance Armstrong Jr., and Joe Dineen, as well, Beaty said one new addition who keeps making things happen is sophomore cornerback Hasan Defense.
"I really enjoy watching that guy play," the coach said of the mid-year transfer from Kilgore College. "He's got some talent. I'm excited about him being here."
Leaders wanted
While Defense plays at one of the least experienced positions on the team, Beaty expects much more from the groups playing in front of the secondary.
"I think our leadership has got to come from that D-line and linebacker group," the coach said.
Specifically, Beaty wants talented linemen Armstrong and Wise and linebacker Dineen to fill the void left by the departure of safety Fish Smithson.
"Joe's kind of the heart of the defense there," the coach said of Dineen. "He's one of the biggest leaders. He's a guy that vocally does it and physically does it."
Likewise, Beaty said players look to linebacker Keith Loneker Jr., in that department.