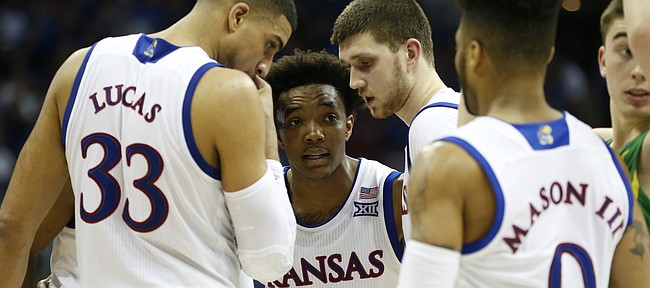 Kansas City, Mo. — Oregon's Tyler Dorsey was at the free-throw line, about to put the finishing touches on his seventh consecutive 20-point performances with his 26th and 27th points Saturday night.
The scoreboard showed 45 seconds remained in a Kansas season that for the sake of reality ended earlier than that. The sort of quiet that only shock can bring settled over the Sprint Center.
Frank Mason III stood near the half-court line, his eyes welling, his face breaking as he struggled to recapture a stone-faced expression that was part of what made him such a fan favorite. 
Devonte' Graham, the happiest face in college basketball, stood about 10 feet in front of Mason, his expression uncharacteristically empty.
Photo Gallery
Kansas basketball v. Oregon (Elite Eight)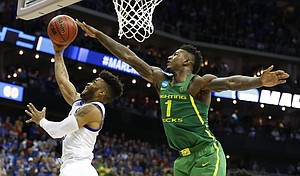 View a gallery of images from the Jayhawks' Elite Eight matchup against the Ducks on Saturday at Sprint Center.
It's a shame the arena was so still at that point because a man wearing a blue shirt that covered his black heart took the opportunity to lean over the wall that separates the first row of seats from press row and unloaded with words that Graham never should have had to hear after the season he had, and the tremendous three games he played to help Kansas get to the brink of the Final Four.
"Hey, Devonte'," the man hollered. "You might want to think about coming back after that one. Come on, come back, and let's do it next year."
What a delightful recruiting pitch. Graham's a born winner who has a bright future, so he'll be fine whatever he decides to do, whether he books early to try to start an NBA career or returns for one more year of seasoning.
Either way, I hope he knows that the bitter voice said everything about one person's psychological state, nothing about him, and stood in contrast to the majority of disappointed fans who watched Oregon take it to Kansas, 74-60, to earn a spot in the Final Four. The majority stood and expressed gratitude with gentle applause as the Kansas players made their way off the court, a gesture of thanks for a highly entertaining season that fell one game short of the sport's grandest stage.
Graham made 13 of 22 3-point shots in the first three tournament victories in which Kansas averaged 96 points and won by a combined 96 points.
Graham missed all seven shots from the field and was 0-for-6 from 3-point range. The Jayhawks made just 5 of 25 3-pointers. Oregon had a great deal to do with those atypical numbers.
The Ducks' matchup zone befuddled Kansas, which put up far more well-guarded, rushed 3-pointers than the open ones they usually take.
"Their little matchup zone was big for them because we really couldn't get into a flow and didn't know what to run against it," Graham said.
Hesitation was foreign to the Jayhawks until Oregon planted it in their minds.
"They've got a good team," Graham said. "That matchup zone that they play kind of slows people down, because you don't know whether to run man plays or zone plays. Then they've got the shot-blocker (Jordan Bell, 11 points, 13 rebounds, eight blocked shots), so they do a good job of using their athleticism. . . . They did a good job of passing guys off, no matter what we were running, so we couldn't really get into a good offensive flow that we usually do."
Oregon coach Dana Altman pointed to the same factors as did Graham in explaining his rough shooting night.
"We didn't let him take easy shots," Altman said. "When he came into the paint, Jordan was sending him back. They were taking tough shots and when you do that, it's tough to get it going."
The loss denied Mason, who scored 17 first-half points, including a late stretch of 15 straight of KU's, a trip to the Final Four and dropped Kansas coach Bill Self's record in Elite Eight games 2-5 at KU and 2-7 overall.
Self addressed Oregon's tendency to change defenses in the course of games during a Friday press conference.
"The biggest thing I think we have to do offensively is not think, and play," Self said. "If you have to come down every time and say, 'OK, let's study, what are they in?' you've lost your momentum and your pace. We will encourage our guys to play and whatever we're doing, just do it, whatever they're in."
The "just do it," approach worked splendidly for Kansas all season, but didn't get it done against Nike's flagship university in a game that got off on the wrong foot for KU when Josh Jackson was called for a phantom second foul with 17:23 left in the first half. The whistle led to Jackson untucking his jersey and slapping a chair on the bench. He returned to the game, but didn't play his signature disruptive defense until the second half and scored all of his 10 points in the final 11:23.
Jackson was limited to 10 first-half minutes and couldn't play with his typical defensive fury for his seven-plus minutes with two fouls in the first half. Without that, Kansas didn't have athleticism inside to keep up with Bell.
Jackson's foul trouble and Oregon's matchup zone turned the Ducks into the faster team for a while, an unthinkable development based on how Kansas sprinted through the first round.
"We played kind of tight," Graham said. "I felt we didn't play as loose as we had been."
Winners don't win every game and this team had some serious winners, tireless competitors who fell one game short. It's natural for everyone to feel disappointed. It's unnatural for someone to lean over the wall and send nasty words in the direction of a player who on this night didn't play for the winning team for just the fifth time in 36 games. What a shame he felt compelled to rub salt in emotional wounds.
— See what people were saying about the game during KUsports.com's live coverage.
---
More news and notes from Kansas vs. Oregon
---