Kansas City, Mo. — Saturday's 74-60, Elite Eight loss to Oregon at Sprint Center left a handful of Jayhawks to face questions about their futures.
But none of them were thinking too much about that in the moments following their second consecutive, season-ending loss one win shy of the Final Four.
"I just lost one of the toughest games of my life," said likely one-and-done freshman and top-three NBA Draft pick Josh Jackson. "I haven't thought of anything outside of that. Right now I'm just gonna talk about it with my family and see how I'm feeling and make a decision from there.... We had a heck of a run. We had a great year."
Photo Gallery
Kansas basketball v. Oregon (Elite Eight)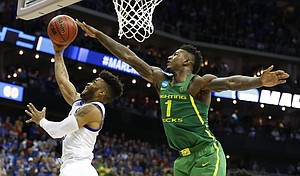 View a gallery of images from the Jayhawks' Elite Eight matchup against the Ducks on Saturday at Sprint Center.
Junior guards Devonte' Graham and Svi Mykhailiuk also may take a look at their options this offseason, but both preferred to go the same route as Jackson when discussing it Saturday night.
Asked what was next for him in the coming days, Mykhailiuk said simply, "Go to school," before adding, "We're gonna see."
As for Graham, who would be the cornerstone and unquestioned leader of KU's 2017-18 team if he were return, the Raleigh, N.C., native said his focus had been entirely on this team and its NCAA Tournament run.
"It's tough," Graham said. "We're right here in our home in front of our fans. We wanted to get it done for them.... Yeah, it hurts. As far as making a decision about anything, I haven't thought about leaving."
With juniors now in a better position than ever to test the waters and get feedback from NBA brass without risking their eligibility, Graham said at least looking into it seemed likely to be in his future.
"It's something you gotta think about, but I haven't thought about it yet," he said. "I haven't even thought about it at all."
When asked if watching senior point guard Frank Mason III have the kind of season he had could factor into his thinking about a possible return, Graham perked up and sounded a little more lively.
"Yeah," he said. "I mean, it will once I sit down and think about it, maybe talk to my family and stuff like that."
Zone busted
When asked what bothered them most during a night when their shots didn't fall and the Jayhawks spent most of the time playing Oregon's style and pace, several Kansas players pointed to Dana Altman's match-up zone as the biggest issue.
"I think the zone gave us a lot of trouble," Jackson said. "Teams that can't play man-to-man defense play zone and I think that was the only thing, really. The zone really slowed us down and took us out of our game."
Added Graham: "That match-up zone just kind of caused problems."
Tightening up
While missing shots was the biggest issue for the Jayhawks during Saturday's loss, many of them, including their coach, admitted to being a little too tight for their liking.
Perhaps it was the urgency of having their path back to their first Final Four since 2012 laid out so perfectly in front of them or the pressure of getting past the game that got them a season ago. Either way, the Jayhawks said their mentality suffered because of it and the Ducks flourished in the moment.
"I feel like they were the more aggressive team," senior Landen Lucas said of Oregon. "They did the small things that helped their team win and they had some players that made some great plays. Just combined for a good team effort."
Added Mason: "I think we started the game really tight. We didn't take good shots to where we should have just moved the ball and draw the ball downhill and created easy shots for each other."
And Self: "You know, in games like this, so much of it comes down to 50-50 balls, and it seemed like, to me, they got their hands and were able to secure a lot of loose balls. The other thing they did a great job of was, how many times did they make shots at the end of the clock that were pretty well defended?"
All-tournament team
A season that featured all kinds of accolades for KU stars Mason and Jackson, who each figure to collect a few more in the coming weeks, ended with each being named to the NCAA Midwest Regional All-Tournament team. Jackson and Mason joined Oregon's Jordan Bell, Tyler Dorsey and Dillon Brooks on the five-man team, with Bell being named the region's most outstanding player.
"He controlled and anchored their defense very well," Self said of Bell. "And I certainly understand why he was Player of the Year in the Pac-12.
This and that...
Oregon evened the all-time series with Kansas at 4-4 and also evened up its NCAA Tournament record with Kansas at 1-1.... KU's loss to Oregon was its first meeting with a No. 3 seed since it faced Georgia Tech in the 2004 tournament, also losing in the Elite Eight.... Oregon advances to its second Final Four all-time and its first since 1939. The Ducks will play the winner of today's North Carolina-Kentucky game next Saturday.... Jackson's double-double of 10 points and 12 rebounds was his 13th of the season, setting a freshman record.... Kansas finished the season with 31 wins for the second year in a row and was 17-4 in games outside of Allen Fieldhouse, including two losses at Sprint Center.... KU is now 103-45 all-time in NCAA Tournament play, including a 33-13 mark under Bill Self.... KU closed the season with a 2,217-841 all-time record.
— See what people were saying about the game during KUsports.com's live coverage.
---
More news and notes from Kansas vs. Oregon
---