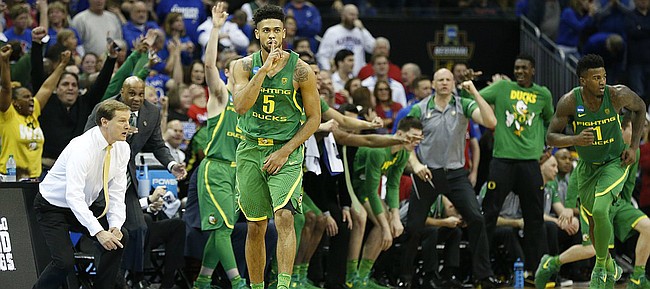 Kansas City, Mo. — Entering Saturday's Elite Eight game against Kansas at Sprint Center, the Jayhawks' home away from home, Oregon basketball players were happy to play the role of the underdog.
When they stepped onto the court before the opening tip, they enjoyed the boos from the crowd. The louder, the better.
The Ducks advanced to the Final Four with a 74-60 victory over No. 1 seed Kansas, holding off a late charge from KU in the final minutes.
All season, they've relished playing on the road — games "we're not supposed to win," senior guard Dylan Ennis said. The Ducks, playing without injured starter Chris Boucher (torn ACL), aren't afraid to play to opposing crowds, which only excites them in return.
Earning a spot in the Final Four — the school's first appearance since 1939 — it was only sweeter that it was done as visitors.
"We are some dogs," Ennis said with a wide smile. "Everybody said we can't come into Kansas City and beat Kansas — we did. Kansas is a great team, don't get me wrong. But don't count us out."
Photo Gallery
Kansas basketball v. Oregon (Elite Eight)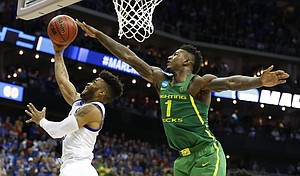 View a gallery of images from the Jayhawks' Elite Eight matchup against the Ducks on Saturday at Sprint Center.
When the Ducks grabbed their regional championship trophy on the podium, then took turns cutting down the nets, they enjoyed staring at their small pocket of fans behind their bench and a mostly-empty arena.
"We sent them home and I know they're mad," said Oregon guard Tyler Dorsey, who scored a game-high 27 points on 9-of-13 shooting. "Everybody sleeps on west coast basketball. Been the underdog in every game and probably going to be the underdog in the next game. We like that. We take that to heart and we play our hearts out every night."
Ennis added: "We said we've got about 600 fans and us. They had, what, 16,000 or something like that? It was just us sticking together."
When Kansas coach Bill Self talked about the keys for Oregon, he mentioned the 50-50 balls that went the majority of Oregon's way, and the key shots at the end of the shot clock.
But to win in the Elite Eight, teams will take whatever ball bounces their way.
"It was basically a road game for us," Oregon coach Dana Altman said. "The guys had to make those plays. We did get some lucky bounces on some of those balls, no doubt about it."
The Ducks (33-5) held Kansas to only 60 points, the first time in the NCAA Tournament that the Jayhawks scored fewer than 90.
In the first half, Kansas freshman Josh Jackson and junior Devonte' Graham were scoreless, and Oregon players were happy to prove that they are more than just an offensive-oriented team.
"Frank Mason got going, but we can take one of the two," Ennis said of slowing Jackson (10 points, 3-of-8 shooting). "We just stayed on the defensive end, stayed getting after it defensively. We kept grinding it out."
Forward Dillon Brooks added: "They were taking tough shots and when you do that it's tough to get it going. We know that from our own experiences."
Oregon is the first team from the Pac-12 to advance to the Final Four since 2008, and playing KU in Kansas City certainly was a tough road block.
But the Ducks refused to let any obstacle, or road game, stand in their way of a Final Four.
"I've been playing basketball for a long time and this is even shocking to me," Ennis said. "I hope I wake up tomorrow — I'm going to wake up tomorrow with a smile on my face."
— See what people were saying about the game during KUsports.com's live coverage.
---
More news and notes from Kansas vs. Oregon
---