Kansas City, Mo. — Almost as a forewarning of how he planned to dominate the paint Saturday night at Sprint Center, 6-foot-9 Oregon forward Jordan Bell denied a Josh Jackson layup and snagged an offensive rebound within the first minute of the Midwest Regional Final, against top-seeded Kansas.
The junior's energetic approach on both ends of the floor injected his upset-minded Ducks with the kind of punch it would take to knock the Jayhawks out of the NCAA Tournament. By the end of a challenging night for KU, Bell had swatted eight shots, secured 13 boards, scored 11 points and spearheaded Oregon's 74-60 victory.
After the Pac-12 champion moved on to the Final Four and the Big 12 champion's season ended, KU coach Bill Self credited Oregon's Tyler Dorsey (27 points), Dillon Brooks (17 points) and Dylan Ennis (12 points) before crowning the undisputed champion of the interior.
"The guy that changed the game more than anything was Jordan Bell," Self said.
Photo Gallery
Kansas basketball v. Oregon (Elite Eight)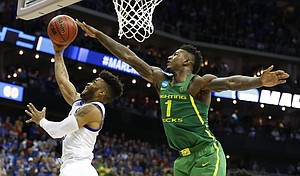 View a gallery of images from the Jayhawks' Elite Eight matchup against the Ducks on Saturday at Sprint Center.
Self's counterpart, Oregon coach Dana Altman, couldn't have agreed more. Altman praised Bell throughout his postgame press conference, and said the Long Beach, Calif., native controlled the area around and above the rim early in the Elite Eight battle, giving the Jayhawks (31-5) incentive to think twice before they ventured toward Bell's paint.
"I thought that really set the tone and gave us a big advantage," Altman said. "Because of that, they took 25 threes, and almost half their shots were threes, because they were looking over their shoulder for Jordan, I think. That was my impression of the game. I thought he did a tremendous job in there."
KU freshman Jackson agreed Bell made an impact inside, saying the Ducks' rim protector ranked up there with the best KU has tried to conquer this season. But Jackson didn't think the wildly athletic big leapt into the Jayhawks' heads.
"I wouldn't say in our heads at all," Jackson said. "Shots just didn't fall for us. I think we were in our own heads tonight."
Bell, who tied his career high with eight denials, wouldn't go that far, either.
"No, I blocked shots and they kept going. Couple of them were missed," the happy forward said. "I fouled Josh Jackson on one of them. I don't think I scared them. I think I made them change their shot maybe a little bit at the end."
Bell did concede, though, that many of his massive plays and blocked shots doubled as crowd silencers, in front of an arena filled almost completely with Kansas fans — save the section directly behind the Ducks' bench.
"It felt great. I didn't know how many blocked shots I had," said Bell, adding he wanted to be aggressive with fellow Oregon big Chris Boucher out for the season due to injury.
As if his defensive presence weren't enough for Kansas to deal with, Bell worked his way to seven offensive rebounds, as well. None was bigger than one that looked like a defensive board for Jackson and KU, with Oregon's lead down to six and less than three minutes to play. Instead, Bell got his hands on the ball and Dorsey went on to drill a back-breaking 3-pointer.
Said Brooks: "Jordan has been grabbing big offensive rebounds for us this whole tournament. Grabbed another one. We weren't running the play, and Tyler threw it up and we just played hard throughout the whole game and when you play hard throughout the whole game you catch some breaks. We caught a break there and Jordan got the rebound and we got to set up another play and TD hit a clutch shot to put us up nine."
Ecstatic after the victory, Bell said the Ducks (33-5) would celebrate their "little trophy" but had another one to get next week, in Arizona.
"Everybody played their butts off. Everybody played their best basketball," Bell said of how they upset Kansas, just down the road from Lawrence. "Can't nobody stop us when we play like that, man. Nobody."
— See what people were saying about the game during KUsports.com's live coverage.
---
More news and notes from Kansas vs. Oregon
---