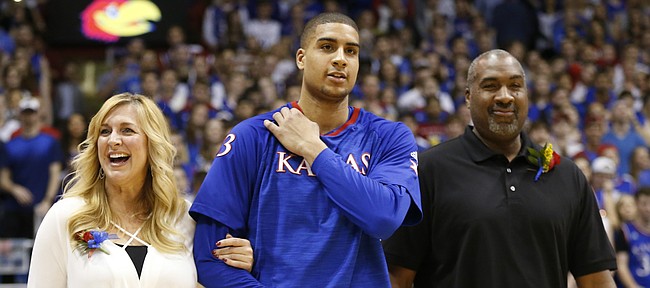 Kansas City, Mo. — Just a couple weeks ago, Richard Lucas sat on his couch in Portland, Ore., watching Selection Sunday and expecting to be disappointed by what he saw.
Oregon, the school where Lucas started at center for three seasons back in his playing days, had lost the night before to Arizona in the Pac-12 championship game. The Ducks, Lucas felt convinced, would be shipped to the Midwest Region as a No. 3 or 4 seed, in the same corner of the 68-team bracket as Kansas.
So what? Well, Richard just didn't want to see the program he loves on the same path to the Final Four as his son, Landen, the Jayhawks' senior starting center.
Sure enough, when the No. 3 seed came up in KU's region, his prediction proved true. Oregon and top-seeded Kansas could meet in the Elite Eight.
Now that day has arrived, and by the end of the night at Sprint Center, one team Richard loves will advance to the Final Four. And the other's season will be over.
Photo Gallery
Kansas and Oregon players and coaches press conferences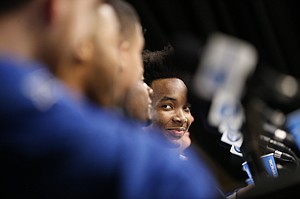 Players and coaches from both the University of Kansas and the University of Oregon met with media members on Friday before Saturday's Elite Eight matchup.
The proud father said Friday he's certain the scene will feel a bit bizarre just before tip-off (7:49 p.m., TBS). It wasn't all that long ago that his son wore Oregon colors just about every day and openly cheered for his dad's alma mater.
"We're Ducks. And we root for the Ducks. We always have," Richard told the Journal-World. "So this is a little weird. But I think people understand the whole blood is thicker than water kind of thing, and this is my son, and I always wish the best for him first over my adulation."
Landen laughed on the eve of the regional final when a reporter suggested his dad might feel conflicted.
"He better root for us and be a hundred percent for us," Landen responded. "He can go back to rooting for Oregon after (tonight)."
A Duck no more
Of course, son could have made things far easier on dad had he decided to play for the Ducks and coach Dana Altman back in 2011, when he signed with Bill Self and Kansas. But Landen said his father never pushed that on him during his time as a prep standout in his hometown of Portland.
"My decision to come to Kansas was just something based off how great Kansas was and less about the other schools," said Landen, who eliminated the Ducks from consideration before compiling his final list. "Once I made that decision there was no looking back."
Lucas never wished early on in his KU career he had decided to don the bright neon and green of the Ducks instead of crimson and blue, even though he sat out his first season and only played 107 minutes in 2013-14.
As he has done since he started playing basketball as a child, Landen got through the most challenging stretch of his college career, in part, through Richard's advice.
Like father, like son
Whether the feedback was good or bad, Landen said, he always listened, because his father, who still holds the Oregon record for best field-goal percentage in a season (.619, in 1991) knew what he was talking about.
"He's huge. He's shaped me into the player that I am now. He's helped me and my mindset become what it is now, and that's just really to do the little things," said Landen, who averages 7.9 points and 8.4 rebounds, and is shooting .641 from the floor. "He was able to do that for his team and really just told me if I can do that at the highest level I can help any team out. And having a great team like we do with great players, I just need to do my job — the small things — and that's enough for us to win."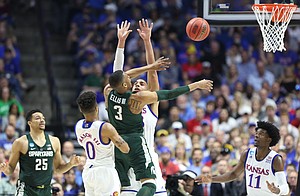 Richard and Shelley's son still smiles at the thought of watching old footage of his dad playing for Oregon.
"Growing up I just wanted to be like him," the one-time Ducks fan said, "and I would always watch the tapes that he had."
Like Landen, who plays sidekick to KU's dynamic senior point guard Frank Mason III, and star freshman Josh Jackson, Richard took on a supporting role with Oregon and point guard Terrell Brandon. The elder Lucas' responsibilities revolved around doing the unsung dirty work that helps teams win. Landen picked up on that and tries to emulate his pops more than 25 years after Richard averaged 15.3 points and 8.8 boards as a senior.
"He took a lot of pride defending the post," Landen said of Richard. "Whenever somebody caught it on the block, he took it personally if they scored, and then he rebounded well. He did the small things to help his team out."
The rebound challenge
When Landen played high school basketball in Portland and Nevada, Richard often presented him with various challenges, including grabbing at least one rebound for every two minutes he spent on the floor. It's a guide that his son still uses today.
Once Landen got to Kansas, his father gave him a new board-focused test to pass. As a Duck, Richard's career-high for rebounds in a game was 18. He taxed his offspring with matching or beating that number at Kansas.
"For Landen that's not something that is a pipe dream," Richard said. "He truly tries to get to 18 — he tries to get to 20 — every single game."
Earlier this season, against Iowa State, Landen finally caught Richard. Or so he thought. Landen's career-best 18 boards versus the Cyclones came in an overtime game, so Richard informed him it didn't count.
"I've got to at least get to 18 or more, hopefully," Landen said, with a grin, "so I can shut him up and he won't talk about it anymore."
Strange night ahead
The arena will be abuzz come game time, when KU (31-4) and Oregon (32-5) compete for the Midwest regional title. But no one in the building will experience those vibrations in the same fashion as Landen and Richard.
The 6-foot-10 center, who will be charged with controlling the paint for Kansas, hopes he won't be too amped and can just treat it like any ordinary game. However, Landen also expects the whole stage will feel a little weird.
"I mean, just seeing the Oregon colors and the 'O' and everything that was such a big part of my childhood and growing up," Landen said, "and now to be going out there with so much on the line — my college career on the line, a Final Four on the line — against that team, it's exciting for me and I'm sure that it'll be exciting (tonight)."
Richard, who works as an Oregon co-analyst on Comcast Sports Net, will be watching from the stands as his son tries to lead the Jayhawks past a program close to his heart. He decided ahead of the Elite Eight clash he won't look at the scenario he once dreaded as a negative.
"One of these teams is going to a Final Four," Richard said. "That's unbelievable for me to know that."
Landen has between one and three games left in his college career, so he wouldn't mind eliminating his father's program in order to keep his national title dreams alive.
"Now I'm all about Kansas and I've passed that phase," he said of growing up a Duck, "and now they're our opponent. It's definitely fun for me. I'm looking forward to it."
---
More news and notes previewing Kansas vs. Oregon
---