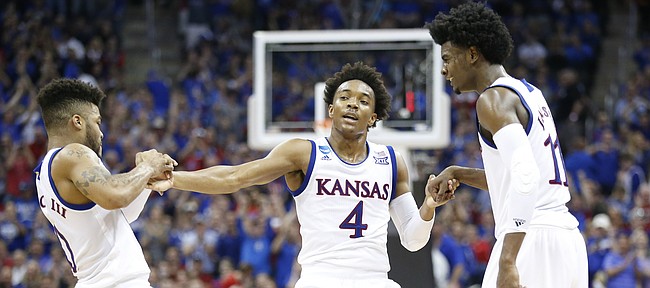 Kansas City — The way Frank Mason III, then a freshman, answered my question about whether he thought he would, before his Kansas career ended, duplicate his 50-point game in a summer high school All-Star game in Richmond, Va., was when I first realized this was an athlete armed with boundless confidence.
He said he didn't know, the humble equivalent of, "Sure, why not?" He didn't say that, but that's what I heard.
So when someone asked Mason on Friday what he would have said as a freshman to someone who predicted he would be the leading national-player-of-the-year candidate, his response didn't surprise me.
"I'd believe them," Mason said Friday, the day before Kansas meets Oregon at Sprint Center with a trip to the Final Four in Phoenix at stake.
Photo Gallery
Kansas and Oregon players and coaches press conferences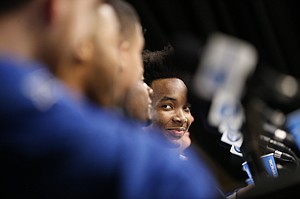 Players and coaches from both the University of Kansas and the University of Oregon met with media members on Friday before Saturday's Elite Eight matchup.
Nobody but Mason himself could have seen this coming, but he absolutely saw it every time he looked into the future. Respect for his elders, as much as anything else, set the stage for the 5-foot-11 senior from Petersburg, Va., making such a huge leap as a senior.
"I think I can do anything that's in my mind," Mason said. "It was just a matter of time, and I was just playing my role every year. Last year it was really Perry's (Ellis) team and my job was to get the ball inside. Sophomore year it was Wayne (Selden) and Kelly (Oubre) and those guys. Freshman year it was (Andrew) Wiggins and (Joel) Embiid. Now I'm a senior. This is my team and my turn."
He said it in the fashion he says everything, with matter-of-fact, raw honesty. He's just that confident in his ability and now that no elders remain for him to step aside for, he's leading with a pair of supremely confident wing men, Devonté Graham and Josh Jackson.
"Devonté definitely arrived here with a lot of confidence," Mason said. "He's been a good player, and he's getting better each and every year. The same things I'm doing this year, he could be doing this year, but mainly he could be doing next year, too, if he decides to come back."
Nothing about how Jackson plays, so smart, so aggressive, so eager to take on any challenge — including guarding a 7-footer most of the game and then leaving him to stay in front of a 5-11 jet on a double on the game's final possession at Baylor — reveals his youth.
It all adds up to a team supremely confident in its ability to conquer every challenge.
The most confident team Bill Self ever has coached?
"We've had some pretty confident teams without question over the years," Kansas coach Bill Self said. "This is certainly one of the most confident teams."
Self has had a hand in cultivating that, masterfully pulling off the juggling act of coaching his players hard and stimulating their belief in themselves.
"I believe that these guys think that we would be doing them a disservice if we didn't coach them hard," Self said. "I think you can coach them hard and be confident, and I think one thing that that breeds confidence is coaching hard. Because if you can do it when a coach is on you pretty good, it probably makes . . . tough situations in games seem a little easier."
Self doesn't hold back criticism, yet also grants his players freedom at the offensive end.
"I think he's very loose, you know, as far as letting us just go out and play, shoot the ball when we're open, whenever we want to, early in the shot clock, one-on-ones, make plays for each other and ourselves," Graham said. "I feel like every year since I've been here he's given us more freedom. It actually builds our confidence, and we play well like that."
Averaging 96 points and winning by a combined 96 points in three NCAA tournament games can't do anything but fuel KU's confidence.
---
More news and notes previewing Kansas vs. Oregon
---