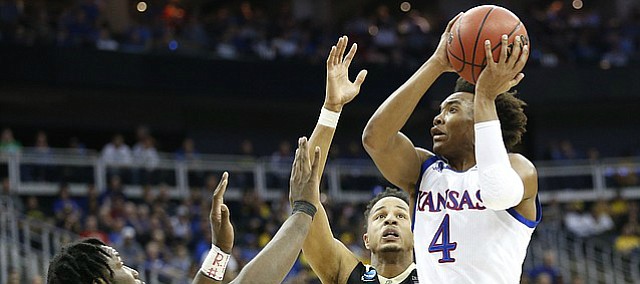 Kansas City, Mo. — At the beginning of the season, Kansas basketball players weren't sure how much time they'd spend on the court in a four-guard lineup.
Now the small-ball lineup is one of the reasons the Jayhawks are thriving in the NCAA Tournament heading into Saturday's Elite Eight game against Oregon (7:49 p.m, TBS).
It takes full advantage of their talented group of guards and versatility on the defensive end, especially with 6-foot-8 freshman Josh Jackson playing the four-spot. When they've faced teams with size, such as Purdue in the Sweet 16, they've just outran them.
But the four-guard lineup didn't always look as good as it does now, especially in October when they started moving away from the traditional three-guard, two-forward grouping because of their personnel.
"It was real weird when we first started doing it," KU junior guard Devonte' Graham said. "Our spacing and stuff was real bad. We had three guards on the same side of the court and we really didn't have a flow. It probably took us about a good month-and-some-change to kind of start getting a flow to it."
Photo Gallery
Kansas and Oregon players and coaches press conferences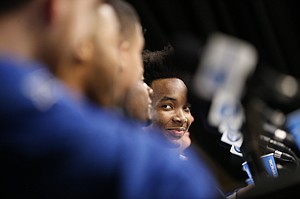 Players and coaches from both the University of Kansas and the University of Oregon met with media members on Friday before Saturday's Elite Eight matchup.
Certainly, the Jayhawks have ended any doubts whether they could overcome any weaknesses with the smaller-than-usual lineup. They own a plus-4.6 rebounding margin. Guards help out with defense in the paint.
Since the NCAA Tournament expanded to 64 teams in 1985, the Jayhawks are only the seventh team to score 90 points in the first three tournament games — the first since UConn in 1995.
"At first, I honestly thought we'd struggle all year rebounding the ball," Graham said. "Landen (Lucas) inside, he's a monster and Josh is as athletic as anybody in the country. Then when you've got two power-rocking point guards like me and Frank (Mason), we think we can take on anybody.
"It's really just a toughness thing. You have to go out and be tough and just have a mindset that you're not going to get out-rebounded or outplayed."
Throughout all of the 2015-16 season, the Jayhawks only played a couple of possessions in a four-guard lineup.
Players were excited to debut the new look in the team's exhibition games before it became more and more common each day.
"Once we kind of got it," Graham said, "…we noticed that it could be something deadly."
By the sixth game of the season — UNC Asheville on Nov. 25 — the Jayhawks introduced a four-guard starting lineup when sophomore guard Lagerald Vick replaced sophomore Carlton Bragg.
Now it's not unusual to see the Jayhawks play an entire game with four guards on the court at all times.
"As a coach, I think sometimes you want to have as much control as you can but still let your players play," Kansas coach Bill Self said. "You can do that when you play inside-out. When you play outside-in, you have to trust your players that they'll make good decisions and be able to make plays on their own.
"I think this year I have probably grown because we have changed so much on how we played to trust guys to go be individuals out there."
It took time for the Jayhawks to learn the in-and-outs of their new offense and Graham credited some of the plays drawn up by the coaching staff to make their four-guard lineup even tougher to guard.
But once everything started clicking — the Jayhawks average 83.9 points per game, the highest in the Self era — they've been thrilled with the results.
"I'd give it an A-plus-plus," Graham said. "Just the way we've been executing it and when you've got guys, all four of us that can make plays and knock down shots and just spread the floor, it's tough to guard."
---
More news and notes previewing Kansas vs. Oregon
---