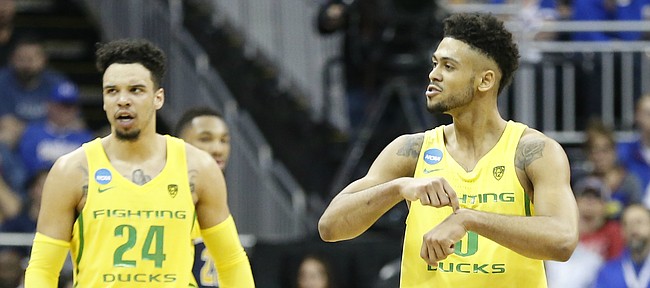 Kansas City, Mo. — The top-seeded Kansas Jayhawks won't be the only team on the floor tonight at Sprint Center with memories of coming up short on the Elite Eight stage one year ago driving them to achieve something greater this time around.
Third-seeded Oregon, too, finished just one victory short of the Final Four twelve months back. It's a feeling the Ducks remember well. After winning the Pac-12's regular-season and tournament championships, they fell, 80-68, to Oklahoma and Buddy Hield.
Junior Oregon guard Casey Benson, who started that game and now serves as the team's sixth man, said last year's finish was hard on all involved. But now, much like the returning Jayhawks, who experienced March sorrow in a loss to Villanova in their previous NCAA Tournament experience, it serves as an easy reminder and motivator.
A year ago, Benson said, the Ducks' goals included a Final Four trip and a national title.
Photo Gallery
Kansas and Oregon players and coaches press conferences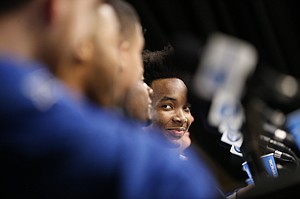 Players and coaches from both the University of Kansas and the University of Oregon met with media members on Friday before Saturday's Elite Eight matchup.
"We have another crack at it," he said, "so we're looking forward to getting out there and making the most of it."
Oregon's leading scorer, junior forward Dillon Brooks (16.3 points a game), said he and his teammates all are determined to move on to next week's national semifinal, at University of Phoenix Stadium, in Glendale, Ariz.
"We really know what's at stake," Brooks said. "We've been there last year and we messed up. But this year we're focused and we're ready to go."
Six-foot-nine junior big man Jordan Bell knows the Jayhawks (31-4) will be just as motivated as the third-seeded Ducks (32-5).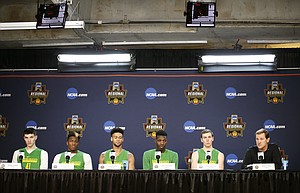 "People treat this game as like a championship game to make it to the Final Four," said Bell, who averages 10.9 points and a team-best 8.5 rebounds. "So it's definitely going to be hard, just like last year against Oklahoma was very hard. But I think we're capable of beating them."
Starting sophomore guard Tyler Dorsey said his team planned to learn all of KU's tendencies and enter the regional final (7:49 p.m., TBS) completely prepared, because that's what it will take to topple the Jayhawks in a building that will be filled with the Big 12 champion's fans.
"It's practically a home game for them and it's going to feel good, but we've got to be ready for that," Dorsey said. "I think it's better to win on the road than at home. It's a greater feeling seeing their fans like mad or just upset they lost."
Asked if this round of the tournament is the most stressful, eighth-year Oregon coach Dana Altman joked he wasn't sure because he's only been to this point a couple of times.
"All the games we feel the pressure to move on, to advance," Altman said. "This one, a little bit more, because that Final Four is the goal of everybody. You get into college basketball as a player I think, and as a coach, you always dream of going. So there maybe is a little bit more moving on from the final eight to the Final Four."
This weekend, few can relate to that sentiment better than the Jayhawks and Ducks. The Final Four is close, and that's something that will remain on the minds of players from both teams throughout the game and beyond — win or lose.
"Knowing that we have that opportunity again," Benson said, "we don't want to let it slip away, because it doesn't come around every year — well, for most people."
---
More news and notes previewing Kansas vs. Oregon
---