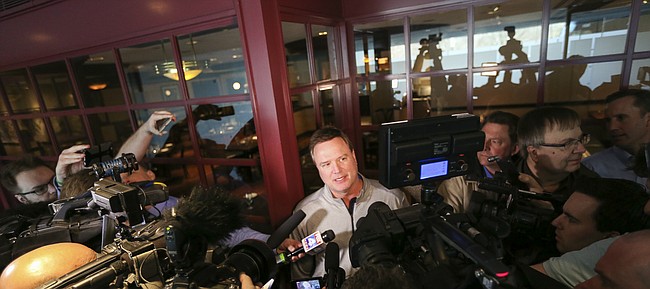 Kansas City, Mo. — At this time of year, a team's mentality can mean everything. And Kansas men's basketball coach Bill Self said Tuesday that he was pleased with where his Jayhawks sit in that department heading into preparations for Thursday's Sweet 16 showdown with Purdue.
"I like our mindset," Self said. "Regardless of situations, you don't get to the Sweet 16 unless your guys care a lot. And all 16 teams have a team full of guys that it means a lot to them And it's gonna mean even more as you move forward and you can see the finish line.
"Last year, we had an unbelievable mindset. We were focused, we were loose and we didn't make shots our last game against Villanova and lost by a possession. This year, who knows if we'll make shots, but I sense the same type of attitude."
While talking to reporters at the team hotel in downtown Kansas City, Mo., on Tuesday, shortly after arrival, Self said his roster was in good health and seemed ready.
"Teams sometimes have a tendency to get tired late in the season," he said. "Like, last year, it was Frank (Mason) wearing down at the end. I haven't heard anybody say things like that this year. So I think our team may be a little stronger and fresher.... A little tired, to be honest, because we (didn't) get back (from Tulsa) until late Sunday night and then (had) just one day off and then we had a pretty good practice, a hard practice (Tuesday), but we'll be ready."
While reaching the tournament has been a given for the Jayhawks during the past 28 seasons, Self said advancing to the second weekend always carries with it a sense of accomplishment and elevated excitement.
"So much is made (of) the road to the Final Four, it seems like every ad on TV is something promoting the NCAA Tournament so I think it's engrained in the guys' minds that this is the reward of hard work," Self said. "But the real reward of hard work would be winning two more this weekend. One of these four teams (KU, Purdue, Oregon or Michigan) will be fortunate to do so and then you get an experience that is off the charts good. This is great, but there's still better out there."
Team balance
Asked for his early thoughts on KU's match-up with Purdue, Self said there was one thing about the Boilermakers that jumped out above all else.
"I would say balance," Self said. "Everybody talks about those (big men Caleb Swanigan and Isaac Haas), and rightfully so, they combine for about 30 points in 50 minutes and close to 20 rebounds. That's a lot. But the reality of it is, they're balanced at every spot. They may be as good a offensive team as we've played all year."
In addition to being one of the biggest teams in the conference, Purdue led the Big Ten in 3-point shooting (40 percent) and also features some of the same versatility that Kansas has.
"You've gotta worry about their bigs," Self stressed. "But you can't rest on those other guys because any of 'em are capable of making four or five threes in a game because they have such good balance.... They don't always play big. They play small just as much as they play big and they have a 4-man like Josh that can play the 3 or the 4 and (Vincent) Edwards is terrific. It's just a well-balanced team. They've put together a nice team."
Familiar face
Asked if he had seen much of Haas, Purdue's 7-foot-2, 290-pound center, before this week's preparations began, Self fired a joke at the horde of media members there to greet the team.
"Yeah, I have," he said. "He was in Rocky IV. Ivan Drago, 'I must break you.' We recruited Isaac some out of high school and he's a monster. He's a great looking athlete and he's improved so much. (Purdue coach) Matt (Painter) and his staff know what they're doing because they run a lot of clever things to be able to get the ball and isolate him and Caleb on the post and they can both play together, too."
Jayhawks favored
Top-seeded Kansas opened as a 4.5-point favorite in Las Vegas and has jumped up slightly in the past couple of days.
The Jayhawks, who lead the all-time series with Purdue, 3-2, including a 2-1 mark in the NCAA Tournament, closed Tuesday as a 5-point favorite in Thursday's Sweet 16 clash, set to tip off at approximately 8:39 p.m. at Sprint Center.