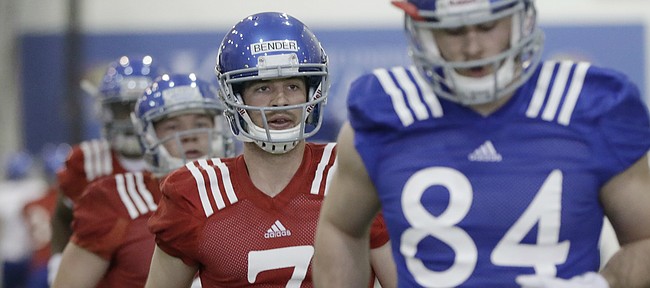 Typically enthusiastic any time he gets to talk about his Jayhawks, third-year Kansas football coach David Beaty came across predictably excited this past week at the start of spring practices.
Beaty's staff put the players through three days' worth of drills and test runs before spring break began — the program will reconvene next week — and the head coach liked the energy he witnessed as the team began preparations for the 2017 season.
While the Jayhawks' exuberant leader entered spring ball curious to check in on the development of returning players, he paid closest attention on the first day to the ones who were experiencing their first Kansas practice. Beaty wanted to see exactly what the mid-year additions had to offer.
In a December signing day group headlined by junior quarterback Peyton Bender, Beaty came across just as fired up about defensive linemen J.J. Holmes, KeyShaun Simmons and Willie McCaleb, cornerbacks Hasan Defense and Shakial Taylor, receiver Kerr Johnson Jr., and linebacker Kyron Johnson.
"These first couple of days in shorts are so important for us," Beaty said last week, "not only to evaluate our returners and where they've come from to where they are now, but really our new guys."
On the D-line, now coached by new assistant Jesse Williams, Beaty noted the "flash" he saw off the edge from McCaleb, a junior from Northwest Mississippi Community College.
"He's got some juice, like what we saw on the tape," KU's head coach said.
One of the biggest areas of concern for Kansas this offseason surrounds finding capable defensive backs, and at least initially, Beaty gave a positive review for Defense, a 5-foot-11 sophomore from Kilgore College.
"Man, I like that guy. He's got something to him now," Beaty said of Defense. "He's got some toughness, he's quick. He is an aggressive dude and he can play. I like him a lot."
The head coach said the opinions his staff developed watching video of Kerr Johnson Jr., a 5-11 junior receiver from Santa Rosa Junior College, were confirmed at practice, which he deemed a good sign.
What's more, just having Kyron Johnson, a true freshman linebacker from Arlington, Texas, who enrolled at KU early, on campus already seemed like a positive.
"Watching him get out there and get a few reps under his belt was good," Beaty said.
And, of course, KU's former offensive coordinator and quarterbacks coach couldn't help feeling positive about having another potential starting QB in the mix.
"That guy can sling it," Beaty offered, upon watching Bender's first spring session. "It was fun to get to a practice and get to watch him throw the ball. Watching that thing come out, he's got some juice. He can let that thing go — no doubt about it. Just more time with our guys is gonna be a good deal for him."
KU football resumes spring practice on March 28.