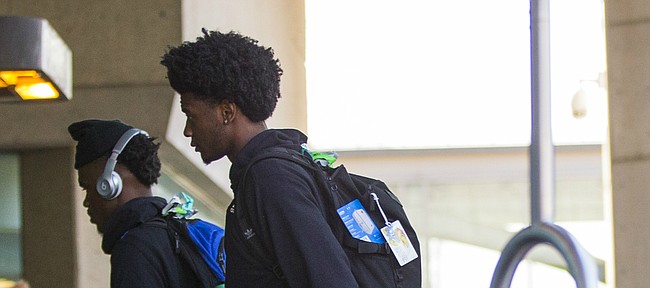 Kansas City, Mo. — Just before 4 p.m. Tuesday, less than an hour after leaving Lawrence, the Kansas men's basketball team arrived at the Westin Crown Center, its headquarters for the second weekend of this year's NCAA Tournament.
Seeded first in the Midwest region, Kansas (30-4) will take on fourth-seeded Purdue (27-7) at approximately 8:39 p.m. Thursday night at nearby Sprint Center.
Until then, the Jayhawks will go through team meals, multiple practices, media opportunities and film and scouting sessions, just as they would in any other city in America.
"We like being in Kansas City," Self said Tuesday. "We like exactly where we're at."
Since the bracket first came out, Self has emphasized that getting the No. 1 seed in the Midwest region was a season-long goal for his team because of the opportunity for easy travel for both the team and its fans. Now that they have arrived, it's time to get back to the business of trying to advance to next weekend.
"We want it to feel like a tournament game," said Self, noting that the bus trip over was the "same as always." "We don't stay at home when we play over here in December. If we play away from home anywhere, we always treat it like a road game. So we weren't gonna switch up."
The Jayhawks reached this point with convincing victories over UC Davis and Michigan State in the first two rounds last week in Tulsa and are eager to continue their run so close to home.
KU is 219-81 all-time in Kansas City, including a 34-7 mark at Sprint Center. One of those seven losses came 12 days ago, but Self said that setback was nowhere near the minds of his players heading into Thursday's clash with Purdue.
"Last time we came over here, we obviously didn't play well," said Self, referencing KU's loss to TCU in the Big 12 tournament quarterfinals earlier this month. "So I want our guys to be totally comfortable. We are treating it like we're away because we came over two days before (the game). We'll get our bellies full tonight at the Capital Grille and treat our guys like kings for at least a couple hours and then it'll be all business (Wednesday)."
With that in mind, Self said he knew his veteran team would be ready to move forward with that attitude and approach starting Tuesday night.
"I think the fun should start now," he said. "There's always pressure the first weekend to get to the second weekend, because you're spreading the wealth between 68 teams and now it's just 16. The attention is highlighted and the experience, I think, is heightened the second weekend, so we're excited. The guys have a good frame of mind.
"I loved how we finished the (Michigan State) game and hopefully that'll be some momentum heading into this weekend."